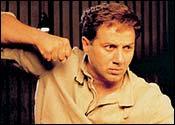 'I have never harmed anyone. So God will not harm me,' cricketer-turned-actor Ajay Jadeja keeps saying through director Yusuf Khan's Khel.
Methinks that's a good guiding philosophy. But then, what harm did I cause anyone to deserve a film like this?
Khel, which has been promoted as 'the ultimate game,' goes on like a 50-over match played across five days.
Rohan Poddar (Jadeja) lives alone on his ancestral property, off the money his family's trust gives him. A Good Samaritan, he believes in helping everyone, including a petty thief who's just stabbed him.
His childhood buddy, Dev Mallya (Sunil Shetty), is a rich businessman who operates more like an underworld don. Mark his unlit cigarette, a revolver sticking out of his trousers and the permanent foul mood, except when he is with his grandma (Suhasini Mulay).
| | |
| --- | --- |
| | More on Khel! |
| | |
The two enjoy drinking, dancing and singing Punjabi songs in Mumbai's nightclubs. If you are wondering why our filmi heroes sing in Punjabi, instead of in Hindi or in their characters' mother tongues, keep wondering. Khel is not going to give you an answer.

Both fall in love with the same girl Saanjh (Celina Jaitley), an interior decorator. Saanjh, however, is oblivious to Dev's feelings; she loves Rohan.

Rohan accidentally kills a girl while trying to protect her from some anti-socials. Dev uses the chance, buys over the police officer (Gulshan Grover) and the prosecution (Mohan Joshi) and defence (Akhilendra Mishra) lawyers and gets Rohan sentenced to life imprisonment in just two hearings. His route to Saanjh is now clear.

Enter assistant commissioner of police Rajveer Scindia (Sunny Deol). He goes about investigating the 'shut' case even though he has not been handed the assignment, as though cops have all the time in the world. And manages to bring the khel (game) to an end without having to do any real 'investigation'.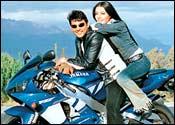 The music is forgettable. The action scenes are good, but the overuse of slow motion shots and special effects ruin the impact after a while. The skeleton-crunching in Sunny Deol's post-interval entry scene are particularly avoidable.
Jadeja does a bearable job initially. He smiles his way through the I-do-no-harm scenes and shows he can shake a leg, but fails to evoke any sympathy in the latter half. His face does not show any sign of pain or frustration in the court and prison sequences. Add to that a bad voice and monotonous dialogue delivery. Compared to him, even Suniel Shetty sounds like a trained mimicry artist!
Debutante Celina Jaitley looks beautiful, wears attractive clothes (the film has a clever, unobtrusive product placement for Shetty's cloth store Mischief), but does little to emote. Not a bad effort, considering many former beauty queens get away with worse.
For all those who thought Sunny Deol signs films only if he gets to mouth anti-Pakistan diatribes, Khel has him playing a cop with no patriotic overtone. And no eardrum-shattering roars either! He does a decent job, though his attempts to play the 'cool cop' even as he is trashing up the baddies does go overboard at times.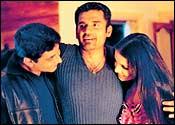 Suniel Shetty, who repeats his award-winning negative act (including the name Dev) from Sunil Darshan's Dhadkan, delivers the best performance in the film. Considering our popular film award organisers rarely give the 'Best Actor in a Negative Role' award to more deserving villains, Shetty should bag a few awards this year too.
Gulshan Grover and Supriya Karnik (as Saanjh's mother) are okay. The rest of the supporting cast hardly have any scope to perform.
Editor-turned-director Yusuf Khan does a fair job, but is handicapped by a story that has no suspense, twists or unpredictable, manipulative characters. But, having written the story himself, he cannot blame anyone else if his 'ultimate game' fails to take off.
CREDITS
Cast: Sunny Deol, Sunil Shetty, Ajay Jadeja, Celina Jaitley, Suhasini Mulay, Supriya Karnik, Gulshan Grover, Mohan Joshi, Akhilendra Mishra, Vijay Raaz, Vivek Shauq
Producers: Galaxy Entertainment Corporation and Popcorn Motion Pictures
Story, direction, editing: Yusuf Khan
Screenplay, dialogues: Dilip Shukla
Music: Dude's Music Company, Daboo Malik, Baboo Mall
Cinematography: Soori
Action: Abbas Ali Mughal

Would you like to review this film? Here's your chance!