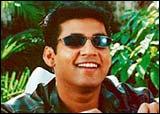 Ajay Jadeja's effervescence has been his trademark since his cricketing days. A hard-hitter of the ball, his spontaneous performance at the pitch had made him a crowd puller.
Today, nothing much has changed.
Jadeja is equally enthusiastic about his acting debut in the Suniel Shetty production, Khel.
Going by the promos which feature a trendily dressed Jadeja grooving with his sexy heroine, former Miss India Universe Celina Jaitley, the 32-year-old appears to be in sync with his new role.
Whether Jadeja will score onscreen remains to be seen. Though he says nothing can replace the importance of cricket in his life, he admits to Ashish Magotra that acting is an 'enjoyable experience'. 
Cricket has always occupied such an important place in your life. Did you ever think you would become an actor?
| | |
| --- | --- |
| | More on Rediff! |
| | |
I did not think of it in my early years. I just did not have the time. But in 1997-98, there was talk about a movie. I did a photo-shoot [
with Madhuri Dixit
] for one of the glossy magazines [
Filmfare
], but nothing worked out. That was probably the first time I heard a script or even thought about acting in a movie. Then,
Khel
came my way.
What has the Bollywood experience been like so far?
It has been fantastic. It is another world for me. On the outside, the industry looks very rosy. But when you realise the nitty-gritty of it all, you realise it is not that easy. It is very glamorous. Anyone would jump on; so would I. But it is different from what I thought it would be. In that sense, it has been a great learning process.
Could you elaborate on the learning bit?
I had a vision of the film industry: what the actors do, what the director does and what the rest of the cast and crew do. It is totally different from what I thought. I thought a movie is made is 30-40 days. Now I realise that's not the case.
Also, the 200-300 people you see around the set [the crew and the extras] have a very major role to play. The actors and the actresses basically have a ball compared to these people. You realise these are the people who make you and the set look good. The cameraman does his job. So does everyone else. The public just gets to see the cream at the top.
Didn't it make you nervous to act in a movie whose cast included stars like Suniel Shetty, Celina Jaitley and Sunny Deol?
There is nothing to feel nervous about. I am doing my part. I have a role to play. It actually does not matter how everyone -- whether it is Suniel, Celina or Sunny -- acts. Ultimately, it is all about reactions. For example, if I am giving an interview, the other person cannot ask me a question till I finish my answer.
Whenever you do anything new, there is always going to be pressure. When I was going onstage for the first time, it involved five days of rehearsals. I had never been onstage in my life. I have never shot for a movie. Of course I was nervous.
The excitement of doing something new is something that goes with a being sportsman. That keeps me going. I have enjoyed the experience.
While playing cricket, you are on camera all the time. Now, you are in front of the camera again. How different are the two experiences?
I think the camera that follows you on the cricket field is much tougher. You don't have a script to follow. You just have to react instinctively to whatever happens. While you are acting, you see the damn camera so you look at it and do everything.
On the cricket field, you just do your job. The camera picks up whatever it can. A lot of industry people may not agree, but acting is a lot easier than playing cricket.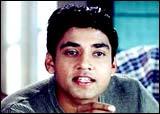 Can you tell me something about your role in Khel?
I play a character called Rohan Poddar. Suniel and I play friends with contrasting personalities. We have grown up together, but we are totally different people. It is a thriller. But like they all say, it's thoda hat ke [it is different].
A movie star on the cricket field or vice versa?
No. The question does not arise. I will always be a cricketer till the end. I don't think anything can be bigger than playing cricket.
You have a few test cricketers who have acted in movies but you have not had a movie star who has played tests. Cricket will always be the priority.
Click here for More Interviews