We continue with our reader-driven series on must-sample restaurants and eating places across the country.
Neville Dcunha recommends Indijoe as a sizzler destination in Bangalore.
I
have visited tonnes of restaurants in Bangalore, but my all-time favourite is Indijoe. This place is located at Airport Road and is housed in the same building as TGIF.
It is spacious and the ambience here is very impressive, one of the best I have seen at Bangalore. 

Bon appetit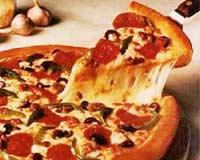 You have a fairly long list of starters. For vegetarians I recommend the Onion Rings, which are fried in oil but very, very tempting. Non-vegetarians can dig into the Chicken Wings.

All starters are priced between Rs 150 and 300. They are worth every rupee.
For the main course, they have pasta and pizza. But do try the amazing variety of sizzlers, which are really the hallmark of Indijoe. My personal favourite is the Chicken Satellite.
All sizzlers are priced between Rs 175 to Rs 250. Any 'normal' person, post tucking into two starters cannot finish a sizzler.
You will keep coming back for more.

Sweet surprise
The desserts are equally impressive and the Chocolate Avalanche is divine. It is priced at Rs 150 and can easily feed three people. 

If you aren't a diet freak then this is going to be your paradise. Dessert choices include ice cream, pastries and custard.
Buffet lunch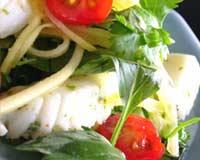 Indijoe features a buffet everyday in the afternoon.

After taxes it is priced at around Rs 175. The menu is a long list that includes both vegetarian and non-vegetarian dishes. There are soups and loads of salads, cold cuts, pizza and Chinese food.

On weekends you need to wait a while for the service in the afternoons as their buffet is hot property.

Happy Hours
Indijoe also serves alcohol. A bottle of beer is priced at between Rs 100 and Rs 120.
Happy hours last up to 9 pm and you get a free drink for every one you order.

Weekend watch
It tends to get crowded on weekends. So, if you are planning to hit this place on a Saturday or Sunday, you need to be there by 8 pm, or else you could end up waiting forever. You also have a huge screen which telecasts some sport or the other.
The service is excellent. All the captains and waiters are very courteous and patient, something which most restaurants in Bangalore lack.

You also have a magician with a few tricks up his sleeves who keeps moving from table to table, especially the ones with kids.

Birthday bumps
Warning: If it is someone's birthday, the waiters get a cake and play the happy birthday song, which could leave you feeling very embarrassed!
Address
Indijoe
Carlton Tower
1 Airport Road
Phone: (080) 51113636

Neville Dcunha, 25, is a Bangalore-based software engineer and self-confessed foodie.
Do you have a favourite restaurant or cuisine? Or have you sampled the latest haunt on the block? Be it Manali or Kanyakumari, Kashmir or Goa, Jaipur or Nagpur -- we would love to know more about the eating out options in your village, town or city. 

Self-confessed foodies, recommend a restaurant. Rate the food (vegetarian and non-vegetarian), ambience, service, accessibility and whether you plan to head back.
Don't forget to add the restaurant's address and phone number, along with your full name, age, the name of your city, your profession and contact details.
More reviews: