We continue with our reader-driven series on the must-sample restaurants and eating places in India. Here, Bharath Kashyap tells you where to get the most delicious biryani... in Bangalore!
I
am a die-hard foodie and love everything -- from s
ambar
to
satay
, barbecues to
biryani
,
naans
to noodles. I think I have dined at pretty much every restaurant worth its name in Bangalore. It's impossible to talk about all of them, of course, but, for starters (pun intended), I would love to tell you about my favourite -- Samarkand.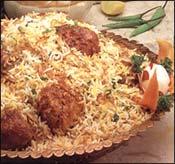 An out-and-out Mughlai restaurant that serves the yummiest biryani I have ever eaten.
Here's what I mean: Having been to Hyderabad innumerable times (and having dined at Paradise and many other much-loved restaurants), I can vouch for the fact that this tastes better than the famous Hyderbadi biryani. What's more, I've recommended it to quite a few Hyderabadis who live in Bangalore and miss their regular 'dose' of biryani. Almost all of them who visited Samarkand agreed with me (If I have ruffled the feathers of any biryani connoisseurs, I suggest you check it out for yourself).
In fact, such is the fame of the biryani served at Samarkand, that I often have a couple of 'vegetarian' friends with me, who eat just the rice and leave the mutton!
Apart from that dish though, Samarkand also has some mouth-watering tandoori vegetarian and non-veg starters.
 
As far as the ambience goes, it can't get better. There is a simulated campfire with make-believe torches, that strangely feels much better at noon than in the evening. The seating, however, leaves a lot to be desired.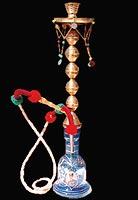 Hypnos, the adjoining pub, has a dance floor, a Grecian-styled ambience (as the name suggests) and some amazing contemporary music (Nope, not on the dance floor because, as most people would know, dancing is banned in Bangalore these days). As Hypnos is run by the same management, the Samarkand menu is available here as well, apart from Hypnos' own menu, not to mention the hookahs that even a non-smoker can try thanks to the mere five per cent tobacco they hold.
 
A meal for two could cost anywhere between Rs 300 and 500, while the hookahs cost around Rs 400 and last for around an hour and a half. 
 
Warning! If you plan to drop by on a weekend, better call ahead and reserve your table. If they allow you to, order your biryani in advance as well.
 
Address
Samarkhand
Gem Plaza
66, Infantry Road
Bangalore -- 560 001

Phone: (080) 51113364
Bharath Kashyap lives in Bangalore. 
 
Are you a die-hard foodie? Recommend a restaurant. 
Tell us all about the food (vegetarian and non-vegetarian), the ambience, service, accessibility and whether you plan to head back.
Don't forget to add the restaurant's address and phone number, along with your full name, age, the name of your city, your profession and contact details.
MORE RESTAURANT REVIEWS!