We continue with our reader-driven series on great restaurants and eating places across the country.
Sanjeev Anand who samples a new restaurant nearly every week, introduces you to a small eatery in Bangalore, which serves four dishes and has been in the business for the last 50 years or more.

T
here are many who are born to eat  -- I am one of them. I HAVE to try out a new eating place at least once a week and this poses a problem in a place like Bangalore, even though the city does not lack restaurants.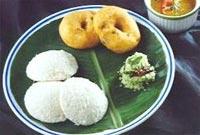 Bangalore, in fact, boasts of gastronomic pleasures on par with any other city in the world but, as a born-and-brought-up Bangalorean, I have probably finished eating in every new eatery. Yes, it is tough being a Bangalorean.
 
Most times people write about a pasta experience at some fancy Italian eatery or the Thai experience in some equally fancy Thai joint. Very few actually try out the best-known local cuisine.
Let me introduce you to a small place in Bangalore which serves four dishes and has been in the business for at least the last 50 years. These dishes have to be eaten here and, I promise you, once you have done that, you may not want to sample the same dishes at any other restaurant.
 
Allow me to introduce you the Brahmin's Coffee Bar, aka the idli restaurant. For non-Bangaloreans and for Bangaloreans who have not ventured beyond the cantonment area, here is the address.
Come to Chamarajpet and ask for Uma Talkies; everyone knows where it is. Once your reach Uma Talkies, come towards Ramakrishna Ashram. Turn left after the Jnanodaya School and proceed for about 200 metres. You will find Brahmin's Coffee Bar at the right side corner of the road.
It is small and I mean, small. If you are driving by that road and blink, you will miss it.
 
Before we talk about the food, here's a little of information about the place. This size of this restaurant is about 200 square feet. Of this area, half is taken up by the kitchen; the other half is open to customers.
It is a 'standing' restaurant, ie there are no chairs and tables; you have no choice but to stand and eat. Along the wall, there is a ledge on which you can keep your plate and eat but you need to be very lucky to get a place there.
As you enter the hotel, drinking water is available on the right hand side. A board above the tap instructs you not to wash the glass again. They obviously believe in the standards of cleanliness they maintain.
Assorted messages on the wall warn you about 'mobile lifters'. A long message written in Kannada, when translated, sends out the message that they don't serve cigarettes or ghutka.
The cutlery is made of steel while tea/ coffee is served in glass tumblers.
 
Now for the food.
They must have great confidence in the stuff they serve in order to survive all these years on four dishes -- fluffy idlis, crisp vadas, spicy khara bath and sweet kesari bath.
 
The idli served here has tasted the same, at least as far as I know, for the last 20 years. I had my first taste of this heavenly idli, and the chutney that goes along with it, when I joined Bangalore High School in 1984. There are two idlis to a plate and, initially, you are served only a little chutney. You see, it is difficult to cut through the crowd balancing two plates of idlis and the ordered-by-default vada, and a bowl brimming with chutney (I am sure you are not the kind of person who wants to eat in solitude; eating is fun when you share it with one more soul).
Once the initial serving of chutney is over, you go to the gentleman sitting at the entrance of the eatery with lots of condiments. He serves you as much chutney you want. People are known to drink chutney here. The management knows it, so they serve it by the glass!
The idlis are soft, fluffy and hot, as they should be.
The vadas are crisp on the outside, soft inside, again as they should be.
The chutney is green in colour and mildly spicy. You can have a sumptuous breakfast with one plate of idli and vada with lots of chutney. Or if you are the gluttonous type (like me), order one chow-chow bath -- this is a combination of kesari bath and khara bath is chow-chow bath.
 
The kesari bath will be dripping with pure ghee. You will also find lots of cashew nuts and raisins in it, so it's definitely not for the calorie-conscious and health freaks. But I do have a suggestion. Have the kesari bath here. The Lalbagh Gardens are about three kilometres from here. Go there for a long brisk walk to lose the calories you had with the kesari bath.
Khara bath is made of large grains of rava and it comes with lots of -- what else? -- ghee. It is mildly spiced with green chillies. Describing its consistency is difficult -- it is neither thick nor watery. It has its own charm and one has to eat it to experience it.
 
Once you have had your fill of the idli-vada, khara bath-kesari bath combos, you may want to have coffee or tea. It is served here in old glass tumblers, which gives it an old world charm.
 
And the most important part -- the prices. A plate of idli-vada will cost you Rs14, as will the kesari bath-khara bath combo. You are free to take anything by the plate; it will set you back by... Rs 7.
Put in another Rs 4 for coffee/ tea and you have had a superlative best breakfast for just Rs 28.
I'm sorry I forgot -- you have a companion, so make that Rs 56.
Sanjeev Anand, 34, is a chartered accountant and lives in Bangalore.
Do you have a favourite restaurant/cuisine? Have you sampled the latest eating haunt on the block?
Be it Manali or Kanyakumari, Kashmir or Goa, Jaipur or Nagpur -- we would love to know more about the eating out options in your village, town or city. 

Self-confessed foodies, recommend a restaurant. Rate the food (vegetarian and non-vegetarian), ambience, service, accessibility and whether you plan to head back.
Don't forget to add the restaurant's address and phone number, along with your full name, age, the name of your city, your profession and contact details.
MORE RESTAURANT REVIEWS!