IIT-Delhi (1995). IIM-Ahmedabad (1997). Then, an investment banker. That's a unique combination for a writer whose bestselling book has remained on the Crossword Top 10 Bestsellers for the past one-and-a-half-years.

After the stupendous success of Five Point Someone, Chetan Bhagat is back with his second book, One Night @ The Call Center, popularly called ON@TCC.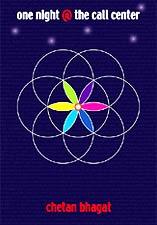 ON@TCC explores issues faced by call centre employees. It delves into their lifestyle. A tumultuous relationship, a bad boss and a phone call from God, ON@TCC has all this and more.

It explores a diverse set of characters -- the self-doubting Shyam; his ex-girlfriend, Priyanka, whose mother would do anything to see her married to a rich NRI; the brash and impulsive Vroom; Esha, who is desperate to make it big in the world of fashion; and Radhika, a dutiful wife whose relationship with her husband takes a disastrous turn.
The book's release becomes even more timely in light of the study by the VV Giri National Institute of Labour, which compare the BPO industry to a Roman slave ship.

Raj Lalwani spoke to Chetan Bhagat about ON@TCC. Excerpts:
What inspired you to write ON@TCC?
I have a couple of cousins and sisters-in-law who work in call centres. Their lifestyle is fascinating indeed; imagine how it must be to begin your day when the whole world is going to sleep. And yet, I learnt from their tales that call centres are not all fun and joy, as is the popular perception.

On a different level, I began to think about the number of individuals who sacrifice their creativity and skills and join call centres merely because of the fat pay packet on offer.
The book was written to present these issues to the youth but, of course, in my style -- with fast-paced, dark humour.
How similar or how different is this book from your first book Five Point Someone?
It is similar in the sense that the story is universal. Even if one removes the call centre setting, the characters remain identifiable. The style of writing is the same -- there is a message, but there are laughs aplenty. The difference is in the time span.
It is much more challenging to write a story that is set in just one night. And FPS had one female character while ON@TCC has three, because of which writing ON@TCC was three times as difficult (grins).
Recently, there was a report in the media of appalling working conditions in call centres, which were later denied. What is your take on the thriving industry?
See, I am not against call centres. If they did not exist, I would still have been searching for a subject for my second book!
Seriously speaking, a call centre, like any other job, has its pros and cons. Unfortunately, the perks are hyped and glamorised to such an extent that more and more youth are getting enticed to join the industry.

A call centre is a haven for under-performers or for those who need money for their education. But there are so many call centre employees who have got into it for other reasons.
About the report, I am happy that my book has at least got people to think. It has sparked off a debate.
Is is true there is there is a large amount of US-bashing in the book?
I will not call it US-bashing. Let's just say they are overrated.
A huge deal is made about the US while we continue to consider ourselves inferior. We Indians need to believe in ourselves instead of looking up to the US, which is just another country. Since the character in the book, Vroom, is a little aggressive, he comes down very harshly on the States.
The phone call from God...
(interrupts) What about it?
How do you explain something as fantastic as that when your story is set in contemporary, urban India?
Just because it has never happened to you, it does not mean that God can never call up (winks).
Everyone has his or her own way of communicating with God. I have just made the concept of talking to one's conscience a little more exciting.
Both your books are in first-person narration. How do you choose the character through whom you will write the book?
I prefer to choose the character that resembles me the most (laughs). Simple, isn't it?
In FPS, Hari is Chetan Bhagat. Save a little bit of dramatisation, Hari's character, the emotions he goes through and how he handles them, is exactly the way I went about things while at IIT.

Shyam's character, on the other hand, is a little different. I have never worked in a call centre, for instance.
But, eventually, most of the thoughts that Shyam goes through -- self-doubt, dealing with a bad boss, going through a break-up -- are those that all of us go through at some time or the other in our lifetime.
Your style of writing is totally unlike your contemporaries. The use of conversational, informal lingo is what has earned you your biggest fans and your greatest detractors. Comment.
We live in an age where everyone talks via SMS.
I have always believed that the only function of language is communication.
The language used in a book ought to be to communicate ideas. It is easy to impress someone by using multi-syllable words. It is much more difficult to write simply. Just because you don't need a dictionary to understand my book, it does not mean it cannot have emotions. Flowery language kills humour. Anyway, it is not my cup of tea.
Any plans to write a new book?

No. Nothing on that front. Five Point Someone is going to be made into a movie and right now, I am busy penning its screenplay.

I know how we all feel so disappointed when our favourite books sometimes do not create the same magic on-screen, and I will try my best to ensure that no one is disappointed. The movie will be out in 2007.

DEBATE