Call centres, trailblazers of the Business Process Outsourcing boom in India, have come under the scanner once again.
A report by the V V Giri National Institute of Labour, an autonomous body under the labour ministry, compares the working conditions in call centres to those in Roman slave galleys.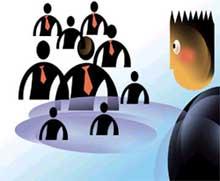 The study also said there was no redressal system, nor were there any trade unions in the sector. This, it said, was because of the dualistic nature of the industry where a call centre consisted of permanent (team leaders, managers) and non-permanent (call centre agents) employees who can be easily replaced.
This has also led to call centre employees suffering from various health conditions like nervousness, chronic fatigue, body ache, insomnia, nausea, anxiety, restlessness, irritability and even depression due to the odd working hours and stress.
Chetan Bhagat's recently launched book One Night @ The Call Centre, based on the experiences of five young call centre employees, also exposes the murkier side of this otherwise glorified business.
However, the National Association of Software and Service Companies has defended the industry. Nasscom President Kiran Karnik felt the V V Giri report did not give a true picture of the Indian BPO industry which, according to him, offered good working conditions.
What is YOUR take on call centres?
What do you feel about the working conditions?
Are they driving our youth astray?
Have we been blinded by the call centre boom or is it truly a boon for the Indian economy?
Express your views, good, bad or ugly.
If you are a call centre employee, or part of the management team, tell us your side of the story.
Don't forget to add your name, age, designation and where you live. 
DON'T MISS
Call centres? Never again!
Confident? Fit for BPO!
Are you savvy about BPOs?
EXTERNAL LINKS