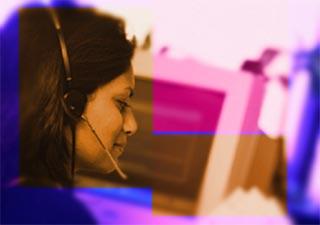 he BPO sector. One of the hottest sources of employment today. In this booming industry, there are a variety of opportunities catering to people from various backgrounds and educational qualifications.
Those who don't mind lifestyle compromises -- like nightshifts -- associated with international BPOs can choose and select the most appropriate role and company to build a career in the industry.
In the second in a series of articles on the BPO sector, Get Ahead offers you a broad outline of the many opportunities within the industry.
The range
Contrary to common misconceptions that BPOs only offer limited exposure, there is actually a wide range of functional areas from which people can choose to build their careers. These include:
Operations management
Quality control and assurance
Business development
Project management and process migration
Client services and account management
Training and development
Human resource management
Finance and accounts
Information technology and systems
Facilities and infrastructure management
The roles
Within these functional areas, there are various roles, responsibilities and positions available:
Customer service professionals/Representatives/Agents
Team leaders/Supervisors
Quality coaches/Quality controllers/Quality assurance supervisors
Voice/Accent/Culture trainers
Product and process trainers
Account managers/Client relationship managers
Project managers/Migration executives
Shift supervisors/Managers
Process leaders/Programme managers
Quality managers/Operations managers
The qualifications
With the range of positions and roles available at BPOs, what are the necessary qualifications to work in the sector? The great news is that there is a position for everyone, from the widest range of backgrounds possible. Here is a look:
High school graduates
Bachelor degree holders from various backgrounds, including Science, Arts, Commerce, Social Sciences, etc
Engineers and technical diploma holders
Degrees/diploma holders from professional colleges/polytechnics
MBA graduates and chartered accountants
Other post-graduate and doctoral degree holders
A hunger for talent
BPOs and call centres in India are known for their preference for youngsters and fresh graduates. Is that a hindrance for people with industry experience looking for alternative careers?
The answer is that the BPO industry has a strong hunger for talent, especially for people with prior industry experience because they are able to better understand the client's business. From among the popular industries that people apply are:
Hospitality (hotels, restaurants, bars, nightclubs)
Retail (shopping malls, consumer products, health clubs, gaming parlours)
Travel (airlines, travel agencies, tour operators)
Financial services (retail banking, credit cards, accounting firms)
Technology (software and hardware vendors, OEMs, ISPs)
Telecom (cellular phone and paging companies)
Domestic and international customer service/sales centres
The advantages
Among the key advantages of working with international BPOs are:
Excellent remuneration packages worth Rs 8,000 to Rs 15,000 per month for entry level positions.
Fast track career growth options, with promotions/salary increments every six to 12 months.
Breadth and depth of roles and job functions, enabling people to select the area that best matches their skill sets and interests.
Opportunity to work for international corporations, supporting their customers and learning from their global best practices.
Benefiting from the extensive training and skills development programmes offered by most good BPOs, helping people develop strong communication and interpersonal abilities.
Opportunity to travel overseas to learn the client's business and/or migrate business offshore from other English-speaking countries like the US, Canada, Australia and the UK.
More by Zia Sheikh: To BPO or not? Myths and realities
Zia Sheikh is the CEO, Infowavz International, a leading offshore business process outsourcing firm.
Do you need guidance on careers in the BPO sector? Write to Zia Sheikh!