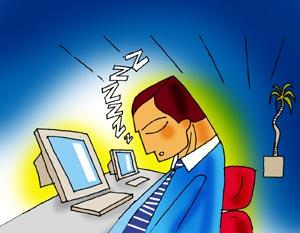 here was a time when you could be fired for napping at work.
Well, that time is back.
When Uttam Manohar Nakate decided to catch some shut-eye at work, he was fired by his employer, the Bharat Forge Company Ltd. Yesterday, the Supreme Court upheld the company's decision to terminate his service.
To nap or not to nap at work -- that is the question.
In an age where HR gurus have given the green signal for employees to take power naps at work, this incident has resulted in much debate in employee and HR circles.
According to Meenakshi Priyam, an HR professional with a bank, the dynamics at work have changed.
It is not a standard nine to five job any more. You could be working in shifts. You could be working overtime for no extra pay. You definitely have stretched targets and are expected to deliver a 125 percent performance.
"Most MNCs and private companies, especially in the IT sector, have gone the extra mile to make the workplace more lifestyle-oriented. You have prayer rooms which people can use during Ramadan, separate smoking zones, and gymnasiums. Some companies even have special napping rooms! The concept of flexi-timings is common, because the focus is on performance. So if a power nap helps you become more productive, why not?" asks Meenakshi.
Of course, if you fall asleep during an important meeting where you are expected to contribute or while operating a machine, a nap is an absolute no-no. Which is what happened to Nakate (he fell asleep while he was operating a machine).
From a health perspective, an occupational hazard today is the disturbance of 'diurnal variation'.
This means shifts play havoc with an individual's sleep pattern and the threshold for stress is lowered.
According to medical professional Dr Josemund Menezes, a nap is especially beneficial for those who work in shifts, those who work on the computer, especially at night, and executives who use their mobile phones constantly to communicate while on the field.
As a result their sleep patterns are disturbed. A catnap of five to 10 minutes every four hours can rejuvenate the brain.
"Besides, the radiation from these instruments can affect your eyes and brain. Some people also suffer from the Sleep Apnoea Syndrome, a condition that induces excessive daytime sleeping. One minute you are up and working, the next minute you are fast asleep. If you experience this, I suggest you get it checked. It is a medical condition and can be cured," says Dr Menezes.
Camille W Anthony, M Ed, and William A Anthony, Ph D, have even authored a book called The Art Of Napping At Work, which gives you tips on how to squeeze a power nap into your busy schedule.
According to them, sleep is the 'The no cost, natural way to enhance our work productivity and satisfaction'.
So power napping, which originated as a slang term in the USA, could help you recharge your batteries and work more efficiently.
But it might be a good idea to check with your HR department before you include a power nap in your schedule.
After all, we wouldn't want you to get the pink slip!
Illustration: Dominic Xavier