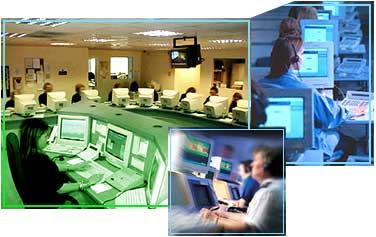 Are you an early to bed, early to rise person?
Or are you an insomniac who think calls centres are the answers to your prayers?
Some jobs follow the classic 9 to 5 routine while others require more flexibility. Some jobs, of course, need you to be a night owl.
What kind of work do you prefer?
The early riser
Perfect 9 to 5 jobs don't exist anymore. An extension in the work day is inevitable.
But such jobs have its advantages, feels Kedar Deshpande.
Kedar, 27, is a manager, information security, Citibank. "The earlier the day starts," he says, "the better. I think you give the best inputs in the early part of the day. You are freshest in the morning after a good night's sleep."
An early start to your day may also lead to an early end to your day.
"Even if you stay back for an hour or so, you still end your day in the evening and have time for yourself and a social life," adds Kedar.
"Early timings are well suited for me as it coincides with my family's work and study time. We have time to share. With late night shifts, I think the main effect is psychological. You are working while the rest of the world is either sleeping or having fun," says Tejumayi Kurlama, who also works for Citibank as a vendor risk manager.
The midday riser
Erratic working hours are par for the course for jobs like in the media for instance. They call for long working days, but compromise by allowing the employee a late start.
People involved in such jobs mostly start their day around noon and go on till some unpredictable hour.
"A person entering journalism should do so with their eyes open. Unpredictability is part and parcel of our jobs," says Saira Menezes, editor, Sunday Mid Day, the Mumbai newspaper.
"Three years ago," recalls Saira, "when we were working on a new look for our paper, we were at work by 10 am. We would leave the next morning around 3 am. We would rest for a few hours, then be back at work. This went on for eight months."
"Normally work moves at a smooth pace. The week starts off gradually, then picks up momentum as the weekend draws near. My weekends are always spent at the workplace," adds Saira.
The burner of midnight oil
India is witnessing the birth and growth of a new kind of employee who works at the nation's numerous call centres.
Young college students and graduates form the work force at call centres. Call centres are a source of early, easy income.
At these call centres, an employee works on shifts. Some days, the shift begins at mid-day and ends at 10:30 pm. Some shifts begin at 1:30 am and go on till 11 am.
Such working hours are well suited for some people but may take a toll on others.
Kiran worked at a call centre for sometime, but she could not keep up with the tempo. "Though there was no effect on my productivity, I suffered from a lot of physical problems because of the erratic timings."
She has now shifted to a day job.
On the other hand, Karthik joined a call centre soon after graduation. He has been there for more than a year and has no intention of quitting.
"My timings are from 9:30 at night till 6 in the morning. The night shift is perfect for me. I have always been a night bird," he says. "The night shift gives me the entire day to enjoy with myself and my friends."
What does the doctor say?
Says Dr Sudhir Rao, "The best work timings are during the day. I work 12 hours a day and can even push it up to 16, but we are all built differently. Not all can keep up."
"Erratic working hours, continuous late nights can take a heavy toll on your body and mind," he adds.
It can also affect your bio-system. This is sometimes seen in people who work at call centres.
Gastric problems may surface because of acidity and constipation.
Sleeplessness in extreme cases can lead to addiction to sleeping pills.
The most significant effect of such working hours are mood swings. Workers at call centres tend to get very irritable.
"Erratic working hours makes it difficult to maintain social contact. This may lead to social isolation," believes Dr Rao.
Remedies
One should develop a hobby or two. Hobbies and recreational activity are a good way to release stress.
Exercise is essential. No matter what age your are, go for walks, jog, etc.
Meditation is also a way to keep yourself calm.
Avoid drinking too much coffee or tea to stay awake at work. They are addictive and can produce acidity.
Try and make time for family and friends.
Most important, make up for lost sleep. Your productivity is the lowest when you are dazed and drowsy. Image: Uday Kuckian