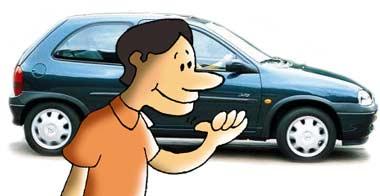 wanted a car.
And there were just three ways in which I could get one.
Option I: Charm my father
Maybe he'd sponsor one. Which, to tell you the truth, sounds a lot easier than it really is. So I promptly dumped the idea. 
Option II: Use my savings
This one barely creeped into my mind before it was thrown right out.
This was one route I was not going to drive down. There's no way I would utilise my savings to upgrade my lifestyle.
After all, what are banks for?
I rather liked the idea of someone else paying for my new transport. This way, I could buy the car I wanted and repay the loan over a period of time.
I know I end up paying more than what I would have if I had put down all the money at one go. But I did not want clear my bank account just to get a set of wheels.
Option III: Take a loan
That settled it.
It was not too difficult. I had decided I wanted a car. I knew which one I wanted (an Opel Corsa Swing -- don't ask me why!). And how I was going to get it. Not bad at all!
Now, all I needed was a good deal.
Chat them up
The good news was that, even before I even stepped into a car dealer's office, I began to get calls from Direct Sales Agents. DSAs call and entice you with deals so that you are tempted into buying a car.
Each one, of course, said their deal was the sweetest. I chatted with all of them to see what they were offering.
Now, in case you are wondering why I was so fortunate, let me explain.
I had purchased a Santro earlier and was obviously recorded in the databases of everyone I had interacted with then. They keep calling to find out if I was interested in another vehicle.
And, since I never did default on my payments, I even got calls from banks asking if I wanted to transfer my earlier loan to a new one at a cheaper rate of interest. 
So, even before I began to visit various car dealers, I already had a fair idea on what the market was offering.
With this ammunition in hand, I visited my first dealer.
Don't shake hands with the dealer too soon
The sales lady at the car dealership knew her stuff. She even tried to convince me into buying another car. But I stood my ground.
I was not only certain of what I wanted, I was also pretty sure of the colour.
I wanted a black Opel Corsa Swing.
It was not in stock so she tried convincing me again. This time she suggested a change of colour. Once again, I am proud to say, I stuck my ground.
She managed to get it for me within a week.
She then gave me her consumer list (the list of cars a dealer stocks and the relevant discounts) and told me the discount she would offer. The latter is given depending on whether or not the dealer is having a good day. Don't ever assume it's the final price.
She promised me that if I took the finance scheme she was offering, she would be in a "better position to offer her produce". Yup, I was shocked at her selection of words too, but I guess every industry speaks its own mumbo-jumbo.
Being rather cynical, I read that as a clear sign that she did not merely want to sell a car, she was all set to slaughter me in the bargain.
Bargain hard
I told her I could not take her deal; that a DSA was offering me free insurance for a year, free RTO registration and between 13-14 percent interest on a five-year loan (don't gasp, interest rates were higher then in 2002).
You have to insure and register your car; there's no escaping that. The cost for insurance and RTO registration differs from car to car. In my case, insurance would cost me Rs 22,807 and registration, Rs 30,921.
Within a few minutes, she returned with an identical offer and a few more freebies thrown in.
I was still not convinced.
It's really no great shakes when the car dealer makes you the same offer as the DSA. The dealers give the DSAs commissions in the three to five percent range to get more business. Since I was approaching a dealer directly, he would not have to give a commission to the DSA. Why couldn't that amount be part of my discount?
I decide to wrangle myself a better deal.
You may say I'm greedy, but it worked. Some more goodies were thrown my way.
The insurance was hiked to two years. The free RTO registration stayed. Here's what else I got for free:
Teflon coating (which protects the car's paint): Rs 4,000
Under body coating: Rs 2,500
Car body cover: Rs 2,500
Rubber mats: Rs 750
Mud flaps: Rs 500
Wiper locks (front and rear): Rs 400
Oops, I almost forgot! A fancy registration number (I remember dishing out Rs 2,000 for my Santro number).
You know the saying, give a camel an inch and he takes a yard.
I was definitely inspired by that camel. I wanted more.
"How about free seat covers?", I asked her (don't shake your head, you would have said the same).
This time, she stood her ground. I did not get the covers.
What about a cash discount?
I was given a choice of a cash discount in the Rs 10,000-Rs 12,000 range. But I figured this would cost me the freebies (which I really wanted). So, instead of taking the discount, I decided to take the freebies.
I ended up owing the car dealer Rs 7,09,256. Which got us to the financial part.
I had to make a downpayment of Rs 1,61,252; the balance -- Rs 5,48,254 -- would be my loan. For the next 59 months (five long years!), I was expected to dish out Rs 12,746 every month (this part was definitely not great!).
The rate of interest amounted to 13.43 percent (like I mentioned earlier, this was in June 2002 before the interest rates decided to head south).
The moment I informed the DSA what I was getting, he was all set to match the offer. But I decided to stay where I was.
The knowledge I acquired with my car
Never hesitate to negotiate or bargain hard. They want to sell the car. At the most, they will stick to their offer. They won't physically throw you out.
If a dealer tells you to drive away in the car instantly because it is in heavy demand, don't believe him. If it is such hot property, why is it still there?
Be certain of the car and model you desire, otherwise you start off on the weaker foot. If you are not sure of what you want, just chat with various dealers and learn about the pros and cons. Start bargaining only when you are certain.
Don't believe everything a dealer tells you. Do your homework. Snoop around. Check out what is being offered and where. Play up one dealer against the other.
The best time to buy a new car is at the end of every financial quarter. That's the time they don't sell, they dump. They have to achieve their targets and they are willing to bend the rules even more. 
If you are reading this, I would assume you are planning a set of wheels for yourself.
Great! There's no time like now. There's a great choice out there in the market. And interest rates are low.
If you are stuck with an old car loan (like I am), there's no better time to switch loans too. New car loans are now going for around 8.5 – 9.5 percent per annum.
Happy bargaining!
DON'T MISS
How to get the best deal for your car
What your car dealer won't tell you
Did you get a good deal when you bought your car? Would you like to share your experience with us? Let us know.
Image: Uttam Ghosh