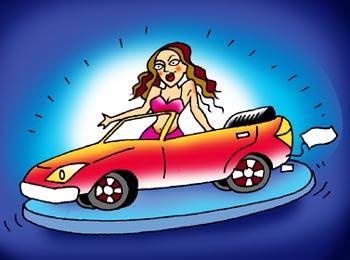 Get Ahead recently flagged off a series on car finance. In the first article, we offered suggestions on how to get the best deal for your car. This is the second article in the series.
Part I: How to get the best deal on your car

our motive: The cheapest deal on your brand new car.
His motive: The highest price he can possibly get.
Reality: Since he has to make a profit, you won't be able to get it at the invoice price (the manufacturer's cost price) or even slightly higher. You will have to work upward.
Since he wants to make a sale, he will be willing to come down from the ex-showroom price (the price which he is offering). This is also referred to as the manufacturer's suggested retail price (MSRP). So he will have to work downward.
The conclusion: Somewhere between is the deal that will leave both of you smiling.
What he won't tell you: I am sitting on a hefty discount
What you must know: He is sitting on a hefty discount. And there is no way he will tell you this.
Even if he does, he will never disclose how much.
But let that not stop you from taking a shot to ensure that part of it comes your way. You lose nothing if he does not oblige. And you could stand to gain a lot if he does give way.
And these are the discounts he will never disclose:
~ Manufacturer's commission: The car manufacture gives the dealer a mark-up on every vehicle sold. For instance, he may be given Rs 30,000 for every model of a particular make.
A safe benchmark would be to estimate his commission at around 5% of the ex-showroom price.
~ Manufacturer's incentive: Some manufacturers also offer dealers target-achievement incentives in addition to the mark-up. Let's say, for every 10 cars sold in a month, they will be given a monetary incentive of about Rs 2 lakh.
Info you could use: Dealers who get incentives along with commissions are willing to give a higher discount, since they are also looking at the number sold.
What he won't tell you: I make money if you take the loan from my favourite financier.
What you must know: A financier (the one who offers buyers loans), may offer a finance commission to the car dealer to push his loans. The financier will give the dealer a percentage of the amount the buyer takes on loan.
So if the dealer is pushing a particular financier, ask that some of the commission he is getting on it be passed on to you. If he does, great. You can avail part of the manufacturer's commission and part of the financier's commission.
If he denies it and does not oblige, don't opt for that financier till you check out the competition.
Car manufacturers give financial incentives to a few car finance companies to push up the sales of their cars.
For instance, the manufacturer may offer Rs 5,000 for every car loan booked by them for their cars. These car financiers are called the preferred financiers.
Say Hyundai's preferred financier is ICICI Bank. ICICI Bank then passes on part of the incentive (say, Rs 5,000), to the buyer by either reducing the interest rate slightly or waiving the processing fees.
Check if you have a relationship with the preferred financier. Do you bank with them or own their credit card or had taken a loan with them earlier?
You can leverage your relationship to get a better deal for yourself. If one is offering a good deal, tell the others to see if they will match it or come up with a tailormade scheme.
Information you could use: When buying a particular vehicle, talk to all the preferred financiers and check whether or not you have an existing relationship with them.

What he won't tell you: I don't think you know much.
What you must know: If a dealer is pushing a particular car, do not fall for it. His commissions may be fabulous on that one and so he wants it out. Don't be hasty. Be cautious.
If he tells you the car is in great demand and you had better close the deal now, ask him what the car is doing in his showroom if it is such hot property.
Knowledge is intimidating. Use it to avoid being ripped off and to bargain for a good deal.
Talk to friends, neighbours, family and colleagues about their cars. Ask them if they are happy with their selection, where they bought it from and how much they paid.
Read up on the Internet. Go to web sites of the car manufacturers. Visit various dealerships and listen to the sales pitch for the cars. Weigh the pros and the cons.
A dealer will tell you a whole lot of things.
He will also not tell you a number of things. If you don't make the effort, you may find yourself with a great offer on a new car, totally unaware that an updated model with new features is to be out within a month.
And, no, don't blame the dealer. His job is to sell you the car, not educate you on the market.
It is your job not to get fooled.
Use your knowledge to strike a hard bargain. Tell him why you don't think that a particular car is worth the price and why it does not stand up to the competition in certain areas.
Prove to the dealer that you know as much as, and probably much more than, he does. Tell him what other dealers are offering you (if they are offering less).
Info you could use: Don't expect the dealer to enlighten you on which car is the best bet for you. Find that out for yourself. Do your homework.
What he won't tell you: You want it more badly than you care to admit.
What you must know: Don't underestimate the dealer. He makes a living selling cars.
When you walk into a dealership, remember that his eyes will never leave you. You may barely notice him as you drool over your dream car/s!
Don't let the first line you say be something as emotionally charged as, "Here is my baby, I waited so long for you," and promptly fall all over the bonnet of your new love.
Or, "I always wanted to own a Mercedes Benz."
Worse, "I know nothing about buying so am going to trust you."
That should get him rubbing his hands in glee. 
Be as emotionally detached as possible. Don't show your excitement or wear your heart out on your sleeve.
And, yes, dress conservatively. A designer outfit with accessories screaming aloud how rich and successful you are will not want him giving you a big discount.
Remember, his eyes are on you. He will not be reading your lips begging for a discount in this case. 
Info you could use: Don't give yourself away. Play the cool detached customer.
What he won't tell you: I am going to get you to spill the beans.
What you must know: You say, "I am willing to pay Rs 2.30 lakh for a Maruti Alto (Alto Bharat II).
The salesman says, "Up to what limit, sir? Let's see if we can work a deal?"
At this point, you have three options:
~ Shut up.
~ Shut up and shrug!
~ Say, "That is the limit." And smile (being rude will get you nowhere).
Throw the ball back in his court and play the game for a while.
Do not volunteer information too soon. Keep quiet if you must.
Silence is scary, especially to a dealer who is not an old hand at negotiation.
Remember, your best bargaining tool is the ability to walk away. Because if you do so, the car dealer knows he may not see you again.
And the more time you spend with the dealer, the less likely he would want that to happen.
Info you could use: Do not volunteer unnecessary information too soon. Including seemingly innocent queries like where you stay, whether this is your first vehicle or what other cars you own.
At the end of the day, remember: Car dealers and financiers are not your pals.
They will entice you not because they like you, but because they like a good sale. Make sure that when you walk away from the dealership, they are not the only ones smiling.
Part I: How to get the best deal on your car
Illustration: Dominic Xavier