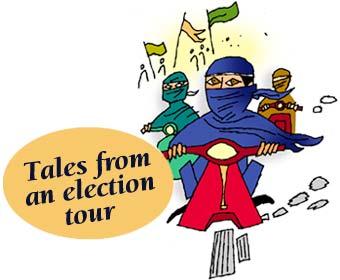 Go to any city and you will find that the drivers/riders there have a particular style of tackling the traffic.
For example, in Delhi if you have a problem on the road you get off your vehicle, abuse a lot and, where possible, introduce your opponent to the hair follicles on your fist.
| | |
| --- | --- |
| | Also Read |
| | |
If you are a woman and driving alone in the night, you carry a heavy baton to ward of suitors.
In Mumbai, if you bump into a car, you get down, argue a bit and then get back in. No time to waste. If you are a Gujarati, you also ask your opponent for the latest sensex position.
Women of Pune also have a style of their own. They generally zip around town in scooties looking like terrorists.
Wherever you go you see them speeding around in a headgear that reminds you of the Hizb-ul-Mujahideen. The cloth covers the head and the face and is tied at the back of the head. All you can see are just two slits through which they stare at you.
It is something that you see in other cities also, but not so much. It is almost like a sisterhood that insists on a dress code.
God, please help these policemen!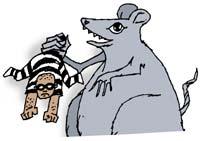 The cops of Pune are desperate for divine help. Why else would they stick posters at the Pune bus stand that read: Ganpati Bappa Morya, Gunehgarana Na Pakduya.
The cartoon shows a giant mouse - Ganesha's vehicle - picking up a puny thief by his collar. The thief is shown in his classical form - black and white striped shirt, black pants, a black cloth with slits around the eyes.
If they do not work, at least lets hope that they pray hard!

Population control theory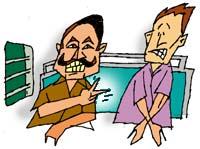 On my way to Baramati from Pune, a gent sitting next to me named Jagtap had a novel idea to rid India of its debt: "Just recover the money that our politicians have stashed away in Swiss banks. That is enough," said Jagtap, who is employed with the state road transport corporation.
He had other bright ideas too.
He was a staunch supporter of family planning. "What Indira Gandhi and Sanjay Gandhi did was absolutely right. Nasbandi hona hee chahiye. I have two daughters. I never thought that I should have a son also."
It occurred to me then that if my father had followed the same logic I wouldn't have been born! I told him that. He laughed and said, "Nahin nahin. Aap apne maa baap ko paida nahin hote. Koi aur family mein paida hote ("No no. You would have been born in some other family).
Ah, I had forgotten about the old Hindu trick of reincarnation.
But there is a big hole in his theory. If I am to be born anyway, how the hell does it make a difference to the population if I am born to my parents or someone else? I mean, the number of people still remains the same, right?
If the idea is to stop population growth, we should perhaps invent a mechanism by which people don't keep getting recycled till they are out of 'this cycle of life and death'.
Maybe if someone can hasten the whole process -- cut down a few steps in between - it would be possible.
Otherwise no chance. China, here we come!!!
Also see:
Slide Show: 'It takes a Congressman...'
The secret of Pawar's power
Gopal Godse: Blast from past
Image: Dominic Xavier