India captain Rahul Dravid says his 100th Test will be special, but the focus would be on winning the third and final match of the three-Test series against England in Mumbai, starting Saturday.
"It is special in the sense that I will be joining a list of five other players who have been legendary cricketers for India. From that point of view it is a great feeling. But it is just another Test as well. Our focus really is on playing some good cricket and trying to win the match," he said on Friday.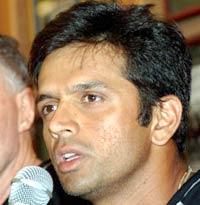 The 34-year-old will become the sixth Indian player to appear in a hundred Tests. He joins an illustrious list, featuring Kapil Dev, Sunil Gavaskar, Dilip Vengsarkar, Sachin Tendulkar and Anil Kumble.
"So while I had time to reflect back in the last couple of days, I just look back and be grateful for a lot of things in my career. But, today, it is the time to look forward and treat this as just another game of cricket. The focus will be on our main task that is to win the Test," he said.
The Karnataka batsman, who made his debut against England in 1996, is one of India's most consistent batsmen, scoring 8492 runs in 99 Tests, at 58.16.
"Statistics and numbers are great and nice to reflect upon, but while you are playing the game it is important to just focus on the cricket. Whether it is the 100th game or the 101st game or the 98th game, the basics of batting or bowling are important."
Asked to pick two or three of his best innings, he replied: "It's really hard to pick two or three innings out of the lot.
Also read: Dravid is a great example: Flintoff
"But some of the innings I can pick is the 180 against Australia in Kolkata [in 2001], both the innings against Australia in Adelaide [2003], in Headingley [148 vs England in 2002], in Pakistan [270 vs Pakistan in 2004], the two centuries in each innings against Pakistan at Eden Gardens [2004-05].
"Some of the one-day innings, like 145 against Sri Lanka in Taunton [in the 1999 World Cup].
"Each one of them has been special and I can't rank them as 1, 2 or 3. But there have been some good moments, like reaching the 2003 World Cup final, winning the series in Pakistan [2004] and doing well in Australia [2003-04].
"So there have been some good moments and there have been some disappointments as well," he said.
He also paid rich tributes to Tendulkar, who will surpass Kapil Dev as the most capped Indian Test player, in the third Test against England.
"Tendulkar has been a colossus. What he has done over the last 16 years, to carry the pressure of the entire nation,  the way people have looked up to him, he has been an icon of the Indian cricket team and that is not an easy thing to do. For someone who started his cricket as a young kid, someone who has developed as one of the best batsmen in the world, the way he has carried himself through that has been phenomenal," Dravid said.
He also refused to buy the theory that Tendulkar's popularity has waned in recent years with the emergence of young stars like Mahendra Singh Dhoni and Irfan Pathan.
"He [Tendulkar] still is a hero, a very big hero. As with everything in life a lot of young kids come through, there is a new awareness, there is a new excitement about young kids, young people and that's the circle of life.
"When Sachin was a young kid there was a lot of interest about Sachin. But now people seem to know everything about Sachin; so there is an interest on the young kids who are coming through. But I still think he is a big hero and is respected and adored by some millions of people," he said.
Dravid, who had a good look at the Wankhede wicket in the morning, said it could take spin early.
"It looks a good wicket, good and firm. There should be a bit of bounce and carry early on, but as the sun beats down on it, and as the game goes on, as you know, the red soil of Mumbai starts taking spin. Maybe, towards the end of the first day or on the second day it will start spinning," he said.
Having taken a 1-0 lead in the three-match series after victory in the second Test in Mohali, Dravid said the team would not play safe and try for a draw in Mumbai.
"We are not going to be defensive at all. Just because we go in with four bowlers does not mean we are defensive. We will try and pick bowlers who we think can take 20 wickets in the match, depending on the wicket and depending on the conditions," Dravid added.
He said the team combination will depend on the pitch conditions and be named tomorrow.
"We have the option of playing five bowlers; we will look at that seriously. We also have some quality batsmen in the side, who miss out if we play five bowlers. That's another tempting feeling to play some of the quality batsmen that we have. We will decide about the team tomorrow.
Taking four bowlers will not be a backward step and taking five bowlers will not be an over-aggressive step. We will do what we believe we need to do to win this game."
Asked what is the best thing to happen on attaining the milestone of 100 Tests, he replied: "I can't think of one. Probably, my parents and my wife being here is the best thing for me. To be able to play this Test with the team that I have as well to captain this team gives me a great compliment.
"Playing in the match in which, Sachin will become the most capped player for India is a great feeling."
The Karnataka batsman feels the absence of Steve Harmison could prove to a blessing in disguise for England.
"Obviously it's a bit of disappointment for England. Harmison has been a standout performer and he bowled very well in the last Test match. But sometimes we have seen that when you give a young kid an opportunity they have grabbed it," he said.
"It will also be a challenge for us. We will have to play someone new, someone we have not seen before."