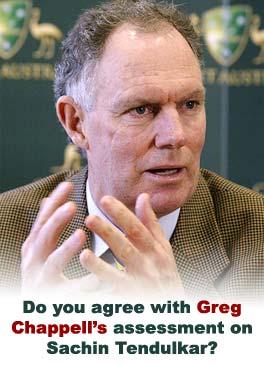 India's new cricket coach Greg Chappell is almost certain that Sachin Tendulkar will never again be his devastating self, but assures us that he will do his best to get the little master back on track.
Chappell believes Tendulkar's form will be critical if India have to go past Australia as the best team in the world.
The Aussie great, who will take charge on June 15, has given voice to India's worst fears.
Tendulkar's declining strike rate has been a matter of discussion for months now, but nobody has put it that bluntly.
A series of injuries in the past couple of years appear to have taken its toll on the 32-year-old legend, widely acknowledged to be the greatest batsman in the world. He has looked way below his best as was evident in the last series against Pakistan.
'I don't think he is ever going to be the player he was,' Chappell declared.
Do you agree with Chappell's assessment of the batting genius? Or do you think that the new coach has started on the wrong foot by commenting on India's biggest sporting icon?
Tell us!