In her acclaimed short story Justice Shiva Ram Murthy, Rishi Reddi follows the troubling and intriguing experiences of an Indian who travels to America to live with his daughter.
A judge in his homeland, he grapples, among many other things, with the loss of status in a culture he has difficulty understanding. The story, which first appeared in the Harvard Review's fall 2004 issue, was chosen among the 20 stories in the 2005 edition of The Best American Short Stories by guest editor Michael Chabon, a Pulitzer Prize-winning novelist and short story writer.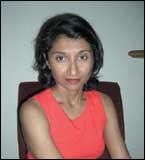 Reddi, an environmental attorney for Massachusetts for a decade, has served as the deputy general counsel for the Massachusetts Executive Office of Environmental Affairs. She is also the Massachusetts legislative coordinator for Amnesty International USA.
In the midst of her legal work, she has been writing for literary publications like the Louisville Review. Now, she has a two-book contract with HarperCollins.
Justice Shiva Ram Murthy will be part of a short story collection to be published in early 2007 to be followed by a novel.
Hyderabad-born Reddi, who left India with her parents when she was about four-and-a-half years old, first for the United Kingdom and then for America, has also translated Telugu stories for publications like The Partisan Review.
She spoke to Rediff India Abroad Managing Editor (Features) Arthur J Pais.
How did you get the idea for Justice Shiva Ram Murthy?
I read a news item a few years ago about an Indian vegetarian who was accidentally served meat in a dish. He sued the restaurant. I began think about it and various other issues connected with making a new life in America.
You have been a lawyer for a decade and now you are going to be a full-time writer. What did your parents think of you going to be a lawyer?
They wanted me to go into medicine. My father (Raghunath P Reddi) is an oncologist and my mother (Rekha) has a franchise business. They have lived in many states in America but Kansas is now their home. I am their only child. But once I decided what I wanted to do, they were very supportive. My father finally told me that it was all right if I went to law, as long as I did not go into medical malpractice (smiles).
You did not go into corporate law or something more lucrative.
True, but I wanted to go after something where my heart was. And I have always been interested in nature and environment since my school days.
Your Web address has the word Pulimamidi in it. What does it mean?
Pulimamidi is my middle name and my parents' middle name -- actually our family name in India. It means 'tiger's mango tree'. The name refers to a story about my male ancestor who nine generations ago was born under a mango tree. That tree was supposedly part of a tiger's territory near my father's hometown of Bhongir in Andhra Pradesh. I believe the name is Telugu; certainly puli means tiger in Telugu, and mamidi means mango.
You have been increasingly showing interest in the Indian-American community. You recently joined South Asian American Leaders of Tomorrow as one of its governors. What do you like most about this organisation?
It is working towards creating the leaders and community activists who are interested in working for immigrants. And it is not just interested in the Indian community. They also want to help immigrants from other South Asian countries.
What are some of the things you admire most about our community?
I admire the sense of interconnectedness between generations that exits in India and that our community in the US has retained. At least among extended family and clan groups, I like the way that we come together to do things -- festivals, weddings, taking care of others. Our community also has a sense of history; we come from an old culture and have an awareness of time that transcends our modern, urban age.
What are some of the things that you dislike?
Sometimes we cannot seem to extend our feeling of community to others outside of our clan or religion. In India, we still separate people by categorising them as Muslim, Christian, Parsi, Jain etc. By extension, in the Western world, we continue this practice by separating Americans into racial, ethnic and socio-economic categories. Of course, we are not the only ones guilty of doing so in this country.
You have lived most of your life outside India. And yet you have such insights into our culture, especially the culture of the elderly immigrants. How did you develop the insight?
Sometimes, a person slightly on the outside of a community and looking in can notice what's happening in the community more clearly than someone who's in the centre of things.
I think all insightful writers have this stance with regard to what they are writing about. One must have great affection for whomever and whatever one writes about, even persons who might be distasteful; otherwise the character won't come alive on the page.
Tell us about your reading.
I like to read all types of writing, from the Harry Potter series to light mystery novels to Pulitzer Prize winners to the literary classics. My all-time favourite writer is Mark Twain.
Who are some of the Indians writers that you admire?
I love several books by R K Narayan. He created a colourful and complex world in his novels.
Do you suffer from writer's block?
Every writer I know has times in which she stops writing for a while, and has a difficult time getting back to it.
How do you overcome it?
Writing should be a daily practice, like meditation or exercise. To start again, I have to do a little bit every day -- perhaps just write in a journal for several days, or sit for 30 uncomfortable minutes in front of a blank white sheet of paper, even if nothing comes out.
Eventually I'll find myself putting thoughts on the piece of paper. And after even a few more days, I might find that they are halfway decent thoughts, and that I can sit for longer than 30 minutes.
Who are some of the people that have helped you in writing?
Anita Desai was my mentor during an independent study I did in 2001, when she still lived in Cambridge and taught at MIT. I remain in touch with her and have visited her from time to time. She has always been a source of inspiration and support to me.
How did you meet your husband?
Alexi and I share many common interests, particularly the concern for the environment. He was an environmental consultant for 12 years. We met at the Massachusetts Department of Environmental Protection, where he and I both worked for the same administrative law judge. He is now at Harvard's Kennedy School of Government, earning a master's degree in public administration in the mid-career programme.
Do you plan to write stories that are not connected with our community?
One of the goals of literature is to erase the perceived gap between people who believe that they have nothing in common, to show universality in human experience and in the human condition, even though any individual's story is always experienced through a specific cultural filter. So, I would like to strive for this in my future writing, whether or not my stories are consciously about the Indian community.
What is your next book going to be?
It is a novel set in the early part of the last century and revolves around the Sikh community in California, and among the subjects it will explore is the marriage of many Sikhs to Mexican women.
How long have you been nurturing the idea of writing fiction?
I enjoy practicing law and believe in the beneficial role that lawyers can have in the community. But I really wanted to be a writer, even when I was practicing law.
So I would get up a little early every day and write for an hour before I went into the office.
As an immigrant, how would you describe your passion for writing?
It is really important that people in our community know that the world is open to them. We should do more than just follow customary roles and careers. The ability to identify one's talents, whatever they might be, and pursue them to their logical end -- this is the real dream of the immigrant.
Also see:
Rage: When politics and fiction collide
Terrorists, riots and No God in Sight