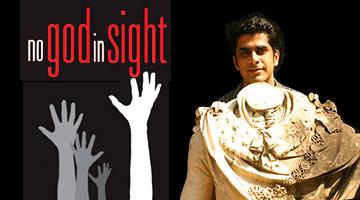 It begins with Mrs Khwaja, a one-time poetess who has long exchanged her metaphors for a life of cooking. A woman silenced by 'the hum of air-conditioned rooms and twenty-four-hour TV.' From her voice, we move to that of her husband, Mr Khwaja, a man who knows the poetry no longer exists. Their son Ubaid spends hours online, chatting with strangers, looking for a place to belong. Their daughter Minaz has other demons to fight. She's pregnant, and grappling with the idea of an abortion.
Through these eyes, and with these thoughts, we take our first, hesitant steps into Altaf Tyrewala's Mumbai.
It is a journey that comes via his debut novel, No God in Sight, the first pages of which plunge you into what feels like a strange place. Our focus shifts constantly, forcibly, from Minaz to her abortionist, from him to his father who works at a shoe store, from there to the store's owner who wants to leave India forever. "Let them have it," he says, "let them have what they have killed clergymen for, razed mosques for, driven out fellow Indians for... Let them have their Hindustan for Hindus."
And that's when you realise it isn't a strange place at all. It's home. What we've all grown up with. Home turned inside out.
Tyrewala is more than equipped to try and map out the consciousness of the city. He was born in January 1977 at Byculla's Masina Hospital, schooled at St Mary's in Mazagaon, and studied commerce at HR College for three years before moving to New York in 1995 for a bachelor's in business administration.
"I hardly had any interest in books before I went abroad," he tells me, by e-mail. "In NYC, homesickness turned me into a reader, especially of fiction from the subcontinent. Over the years, I became convinced, unfortunately, that I could 'do India' better than the Rushdies and Roys. I returned to Mumbai in 1999 and tinkered around as an instructional writer for a few years before taking the plunge into full-time writing."
It is a crisp, no-nonsense plunge.
The novel moves from one first-person account to the next, incorporating monologues, headlines, anecdotes, vignettes. The book's sleeve describes the cast of characters as unusual but, to be honest, they aren't. They are the kind of people you could meet on a walk down any street in Mumbai, were you to look carefully, and this is what gives the novel its honesty.
There's the impotent Babua, who turns rabid fanatic in order to hide his impotence. What I like is the way Tyrewala changes these stories into powerful allegories. The impotence here moves far beyond the realm of the sexual. There's Suleiman, the Muslim villager forced to leave when he realises he has suddenly been turned into an outsider. There's Nawaz, a no-good lout who pretends to be a teacher of Urdu poetry. There's his student Abhay, who desperately wants to soak up some culture in order to impress his girlfriend back in the US. There's Sohail Tambawala, shot dead after being mistaken for a terrorist.
The list is long, each voice more interesting than the last. What emerges, layer by layer, is a picture of the larger forces at work in a major city. Forces that demand submission, and get it no matter what the cost.
"It was an entire gamut of circumstances – both internal and external – that lead me to write No God in Sight," says Tyrewala. Apart from his formative years in the city, what also brings colour to his narrative is the kind of life he has led. While in New York, to augment the money his dad sent for fees, he worked as a temporary cashier at a coffee shop, sold long-distance phone services, and even worked as a clerk at the college registrar's office. "As a result," he says, "New York for me is synonymous with biting cold, gnawing hunger, and hard work."
I ask him if he thinks he has managed to convey all he wanted to, about the complexity and surreal lives people tend to lead in a metropolis like Mumbai. "Why just in Mumbai," he asks back. "It would be a mistake to attribute complexity only to urban existence. I think people lead complex and surreal mental lives everywhere. A CEO can be as deluded as a farmer. I find the human mind an incredible phenomenon. Every individual has his or her own unique take on reality. I hope I've accounted for that."
Another thing that strikes me about his novel is the Hindu-Muslim issue that looms large over the cast. "I am most intimate with the Central Mumbai Muslim experience," explains Tyrewala. "Until recently, and probably even now, the political climate in the country made minorities very conscious of their identity. How could my characters have remained uncontaminated by this awareness?"
When I ask if he is religious by nature, he says he isn't if, by 'religious', I mean ritualistic. "Let readers -- atheists, nihilists, Hindus, Muslims, Christians, Buddhists -- make what they will of the novel."
Considering Abbas Tyrewala -- the man responsible for such successful screenplays in the Hindi film industry as Maqbool, Munnabhai MBBS and the recent Salaam Namaste – is Altaf's older cousin, I ask if the two have considered adapting the novel for cinema. "Nope," he says.
The only thing that doesn't quite work for me, I tell him, is that even though his characters are diverse, the tone with which they convey their individual messages is similar. Was this a conscious decision? "It was," he replies. "As I was writing monologues, I wanted each of my characters to express the most rational, impassive, and truthful viewpoint possible in their own specific situation. I found that quirky verbal mannerisms or a self-conscious tone were coming in the way of what I had in mind: To present their inner lives as briefly and intensely as possible."
The author doesn't know what happens next, apart from his wish to continue writing. He believes form and content are inseparable though, and doubts he could write a conventional novel.
I like Altaf Tyrewala. I find his writing refreshing; his attitude, even more so. "When I am asked about the whys and hows of my book, I am really saying things I know you want to hear," he tells me. "I am giving the kind of answers that I think sound intelligent. I don't have a clue about my book. I've written it, it's there." And who can argue with that?
Going to the novel's sleeve, No God in Sight signals the arrival of an exciting new voice in the world of fiction. I concur, wholeheartedly.