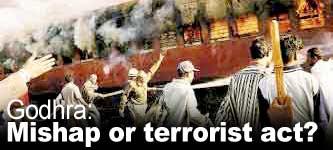 Nothing has affected the collective Indian psyche in recent times like the February 27, 2002 incident at Godhra where a compartment of the Sabarmati Express was allegedly set on fire, killing 59 passengers, and the consequent horrific Gujarat riots.
An irrelevant fury | Without tinder, sparks are useless
A month before the third anniversary of one of the saddest events in contemporary Indian history, a investigating committee appointed by Railway Minister Lalu Prasad Yadav suggests that the fire was an accident, and not a diabolic act.
On the other hand, an officer investigating the Godhra case says terrorists set the Sabarmati Express compartment on fire.
Read about the Kashmir Connection
Are we any closer to the truth behind the horrifying episode? Will the truth ever come out?
Also Read: The Talented Mr Modi