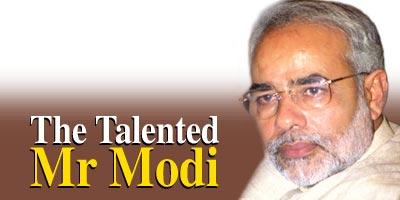 Senior Editor Sheela Bhatt examines the rise and rise of Gujarat Chief Minister Narendra Modi, in a two-part special series.
On the evening of December 12, 2004, Smriti Irani, star of the popular television programme Kyunki Saas Bhi Kabhi Bahu Thi had egg on her face. Before that, Teesta Setalvad suffered a severe jolt.
Best Bakery Case: Supreme Court orders orders probe
That is what Gujarat's controversial Chief Minister Narendra Modi is capable of.
After the Godhra carnage and the bloody communal riots in 2002, which killed more than 1,000 people, Modi remains unshakeable. A hyperactive Modi is consolidating his political position both inside and outside of Gujarat with the help of the 'development card.'
How is Modi making it possible? What is he up to? On the basis of discussions with some of Modi's confidantes and his team of officers, rediff.com presents the guide to the latest on Modi and Gujarat.
What is Modi doing?
He is obsessed with three issues.
1. The brand building of his own image;
2. Fast-track development of Gujarat via liberalisation and;
3. Hindutva
In the last two years, he has done a huge amount of groundwork in all three directions. He is building a brand called Narendra Modi and is emerging as the unrivalled autocrat of the state. In his speeches, he invokes regionalism.
Within his party, dissidents are a fast vanishing tribe because Modi hates criticism and doesn't allow internal debate on issues that question his ideas, style of functioning or decisions. News reports about the functioning of various government ministries are difficult to come by because he has tightened security around government offices in Gandhinagar. Party veterans like Ashok Bhatt and Vajubhai Vala, who have been with the BJP for four decades before Modi arrived on the scene, are now his mute partners.
Within Gujarat, Modi is politically stronger than before because he has segregated his dealings with the party and the general public, he hardly needs the party apparatus to communicate with the people. Then, it also adds to his image that even bureaucrats and police officers repeatedly claim that Modi is not corrupt.
In an attempt to enhance his image, he launched a massive self-publicity drive after the riots. Millions of rupees have been spent in the publication of diaries, calendars and such materials which carry Modi's pictures along with information about a given government ministry. In India, most chief ministers misuse this but Modi is doing it skilfully and aggressively like probably no chief minister has ever done.
Like, to exploit the visibility factor, besides posters and hoardings, lakhs of booklets on quality paper have been printed by various ministries carrying his picture prominently. Modi has made sure that in Gujarat no one can escape noticing him.
He is hostile to the local media and has adopted a strategy to keep silent on police cases of the Gujarat riots and on the legal battles going on in various courts. He didn't even react when the Supreme Court admonished him and called him Nero. Modi is buying time. He thinks time is the most important factor in his game plan, even in his future ambitions.
His camp believes that the legal activism of non-government organisations, Teesta Setalvad, Harsh Mander and the National Human Rights Commission will ultimately manifest in such a manner that it will strengthen his image as a strong leader of the Hindus. His party believes that when the Gujarat riots cases reach its logical conclusion, he will be the gainer. If the Hindu accused lose high-profile communal riots cases like the Best Bakery, Bilkis Banu, Gulmarg Society and Naroda Patia their discontent will deepen the division between Hindus and Muslims.
How can Modi not benefit from this?
And if the accused of these cases win, it will again give him winning points to argue with the secularists.
As the Shah Bano issue had helped the BJP and L K Advani to emerge stronger, Modi will turn Teesta Setalvad into Gujarat's Shah Bano. The only difference is that Modi is using the power of the State to fight his battle with the 'secularists.' His calculation is that a faster trial is Gujarat BJP's best bet. No one can predict either way about these cases but Modi is able to see a political lifeline in the stiff opposition to the 'biased' police inquiry in his rule. The Modi camp thinks 'secularists have stretched things too far and it is again advantage BJP in Gujarat.'
The Modi camp revealed that if he is cornered politically because of the riots cases, he is all set to raise the issue of the federalism of India, messy investigations of past riot cases and its shamefully low conviction rates, the situation of 'jihadi outfits' in other parts of India and 'foreign support' to secularists and NGOs' legal movement.
What about development?
The riots were very shameful but to say that Gujarat's development will be stunted because of it is far from the truth. Gujarat is a 'baniya state.' Once a Gandhian labour union leader complained that even Gujarat's Dalits are rightist. The riots were severely violent and unprecedented in scale but the antagonism between Hindus and Muslims is not an overnight phenomenon.
Gujarat has the tenacity to struggle about social and communal issues while carrying on with businesses and development. Gujarati society is highly monetised. After a temporary setback, agriculture produce and sectors like pharmaceuticals and chemicals are booming. Modi has been successfully staging publicity stunts to bury the memory of violent days. His opponents may not like to accept it but a large section of society has left the riots behind and moved on. No one talks about the riots and few respond to Teesta Setalvad's activism.
Few turn up at the Nanavati Commission to hear the arguments. It is embarrassing to see that many Hindus behave as if the riots never happened. And Muslims who were not directly affected are back to their normal life, rather, many of them don't want to revoke the memories of the riots and debate over it because it 'vitiates' the atmosphere with their neighbours.
Has Modi done anything to bridge the gap between Hindus and Muslims?
A heart-shattering fact is that the blood of 1,000 innocent men, women and children has gone in vain. After the torturing and burning of hundreds of human beings, the situation remains unchanged. Here in some areas and in some sections hearts are polarised, not just minds.
But a point to remember is that the Muslims of Gujarat are Gujaratis first. They are very pragmatic and know the value of silence. The level of fear in the Muslim community has largely reduced because a large number of Gujarati Muslims are traders and have got engaged in the market as before. However, the psychological divide remains the strength of Modi's game.
They are very pragmatic and unlike many secularists and legal activists, they don't want to 'stretch the issue of legal justice' beyond limits because there is a life beyond the courts and issues raised by Zaheera Sheikh. Gujarati Muslims understand Modi's communal politics better than the secular activists of New Delhi or Mumbai. The most relieving aspect of their attitude is that even after so much suffering in 2002 Gujarati Muslims are not looking outside for better options. For them 'samajik samadhan' (settlement of disagreement over social issues) is the guiding mantra and they will find it out within society. It may take a decade.
Part II: Why does Modi seem invincible?
Photograph: Ranjan Basu/ Saab Press

Image: Uday Kuckian