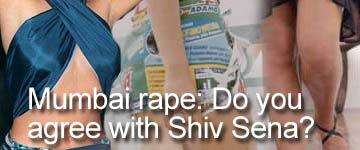 Days after a police constable raped a 16-year-old student inside an outpost at Mumbai's Marine Drive, a front-page article in the Monday edition of Shiv Sena mouthpiece Saamna partly blamed such incidents on provocative clothes girls wear.
The article said parents had a tough time 'controlling their daughters' 'There seems to be a competition among youngsters to show their undergarments in the name of 'low-waist' fashion.'
The article further added: 'It is no longer feasible for a family to roam on Chowpatty. To see girls dangle a cigarette openly is worrisome. If a man is incited by such clothes, who can one blame?'
It also hit out at the growing 'Page 3 culture' in Mumbai, adding that the incident 'brought to the fore' these concerns.

Also see: Students conduct 'last rites' of law

Women's groups staged a protest at Azad Maidan in Mumbai, saying the article 'reflects the party's narrow-minded attitude towards women'.
Do you agree with the Shiv Sena's point of view?