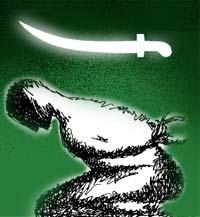 Part I: 'Why do the Saudis kill innocents?'
The Saudi Arabia government says Shahjahan smuggled brown sugar in his shoes when he boarded the flight from Chennai to Damman.
"What is brown sugar?" asks Shahjahan's father Pakkar Mohammed who runs a tea shop in a rented building in Moolavayal village in Kerala's northern Wayanad district. He borrowed Rs 30,000 from friends and relatives to send his son to Saudi Arabia.
"I was thrilled when my son got a visa. But we heard nothing from him after he went to Saudi Arabia. We have not seen his dead body. Why do they kill innocents like this?" moans Mohammed.
Shahjahan was recruited as a manual labourer by a local travel agent, who arranged the monthly Rs 12,000 job through a recruitment agency in Chennai.
When he boarded his first flight from Chennai to Damman in March 1999, Shahjahan had only one hope -- earn some money to help his poor 10-member family. In Chennai, the travel agents bought him a set of trousers and shoes. Shahjahan had never worn shoes before in his life. And so, Shahjahan flew to realise his dream in the shoes the agents gifted him.
As soon as he arrived in Damman, the Saudi police arrested Shahjahan because they found 550 grams of brown sugar from his shoes.
His young wife Ramla was looking forward to a letter from Shahjahan. Instead, she received a phone call from a neighbour working in Saudi Arabia, who told her Shahjahan was in jail and had been sentenced to death.
Terrified, the family petitioned the Kerala government's Non-Resident Affairs Department, which took up Shahjahan's case with the Indian embassy in Saudi Arabia. But the family's appeals and the Indian embassy's request to spare Shahjahan from death did not help.
Activist Mukundan C Menon who worked hard to save Shahjahan's life says an undetermined number of foreigners, among them Indians, have been sentenced to death in the kingdom and await execution. Details of their trials and the evidence presented to convict them are treated as a State secret.
"The tragedy is that in many cases, the condemned men did not know they had been sentenced to death, and their embassies were only informed after the fact," says Menon.
Last year, an Indian diplomat in the Gulf said no advance information is given to the embassy before Indians are beheaded. "We get the information after the execution from local newspapers," he said.
After the execution, the body is not returned to the family. Relatives receive no official information about the location of the mortal remains in Saudi Arabia.
Abdul Nassar, general secretary, Pravasi Malayalee Council, an organisation of Gulf-returnees based in Kerala, says smuggling of drugs from India has witnessed an alarming increase after Pakistan and Argentina tightened measures against drug trafficking.
"Innocent job-seekers are used by the drug mafia as couriers without their knowledge. They are caught and killed in Saudi Arabia," says Nassar, who worked in that country for several years. "The Government of India needs to do something to end this menace and the killing spree in Saudi Arabia."
Is the Indian government taking up the executions of Indians with the Saudi government?
It is. But the response from the Saudi government has been defiant. In 2002, then Indian President K R Narayanan petitioned the Saudi authorities to spare an Indian from execution. Narayanan wrote that the Indian was innocent and should be freed.
Narayanan got no reply. Instead, the Indian was executed the very next week.
Illustration: Dominic Xavier