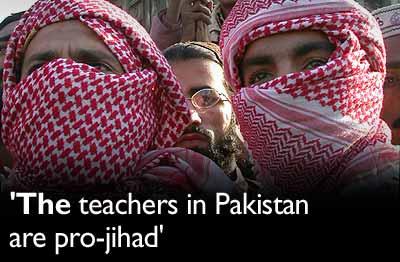 A group of experienced grassroots workers from the South Asia Partnership organisation in Lahore tell Contributing Editor Sheela Bhatt why they think Pakistan is changing.
Part I:  We have never seen changes like these in the last 50 years
Part 2: The elders have a softer attitude towards India
Part 3: People take decisions carrying the Qu'ran in their hand
I
'll repeat what my colleagues have been saying: the youth here are more anti-India than the elders. On my visit to India, I saw the same thing happening there as well. The older people in Delhi were talking the same language as the elders in Pakistan's Punjab. In the border areas, however, the perception is different.
The urban Pakistani condemns the violence of the jihadis but the rural folk think differently because they are under the influence of the maulvis. The teachers in Pakistan are pro-jihad. Even in the cities, where Western or American education is imparted, the teachers are proud of the fact that they teach religious subjects as well. Even in American schools, Islam is part of the syllabus. A teacher from an American school once told me they have to consider the community psyche. Parents feel secure when their children are learning Arabic.
India is judged differently on different issues. For example, Pakistanis are impressed when they read that the Indian government gives its farmers a fixed price for their produce. They feel the farmer's right is secure in India. But when rape cases involving Indian Muslim women are reported here, people think they are relatively safer because they are not living in a country dominated by Hindus.
We believe Indian Muslims are struggling to keep their identity intact. If you compare them with Pakistanis, you will find that more Indian Muslims grow a beard and wear Arabic clothes. The demolition of the Babri Masjid and the carnage in Gujarat has had a profound impact in Pakistan. At the same time, it is exciting to read that a divorced Muslim woman was given permission to live in her husband's home in India.
Pakistanis have been disillusioned with their politicians for a long time; now, they are also fed up with the army. They want change. Pakistanis will have peace only when women get justice from men and when the common man's voice is heard in the establishment.
Let me tell you something important. When it comes to relevant issues and I tell them a success story from India, they always identify with it.
When I was in school, we kept talking about Kashmir. Now, Kashmir is no longer the main topic of conversations. In that sense, people have changed. But the education system still focuses on Kashmir. One day, my four-year-old son asked me, 'Why are Hindus not good people?' I have been to India so I explained to him that he was wrong. He replied, 'Maybe the Hindus of India are good, but the Hindus elsewhere are not good.' He is taught these things in school; schools here also function like missionaries and have a class on the interpretations of the Qu'ran.
I see a gap in the India-Pakistan peace process. I believe it is the radicals with prejudices who should travel across the border. Mere people-to-people contacts, where people with similar mindsets visit each other, are not enough. These are just goody-goody visits.
I am also heartened by how the leaders of both countries are focusing on resolving the Kashmir issue. If they decide to turn the Line of Control into an international border, then this solution will have to be explained as favourable towards development, business and reduction of poverty. Pakistanis will not accept it if the solution is forwarded as a religious one because they basically do not want a division of Kashmir along the LoC.
Uzma Zarrin is a development worker in rural Punjab.
Part I:  We have never seen changes like these in the last 50 years
Part 2: The elders have a softer attitude towards India
Part 3: People take decisions carrying the Qu'ran in their hand
Photograph:
Syed Zargham/Getty Images
Image: Uttam Ghosh