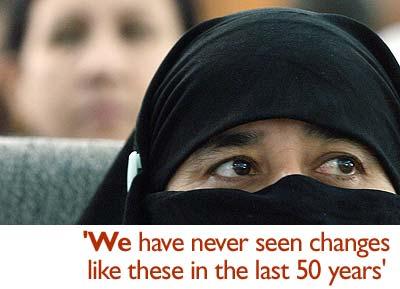 Part II: 'The elders have a softer attitude towards India'
Part III: 'People vote in Islam's name'
Part IV: 'The teachers in Pakistan are pro-jihad'
Pakistan is changing in a very fundamental manner
. We have never seen changes like these in the last 50 years. Now people are saying, '
Yaar, yeh Kashmir ka masla hal nahin hona
[The Kashmir issue will never get resolved].'
People now believe India will never give Kashmir to Pakistan. People now say the tension and the wars are not worth it. They are reconciled to the reality that India is too big a country and Pakistan will never get Kashmir from India.
Now, the Pakistanis want Kashmir to be independent. The average person in Pakistan repeatedly asks, 'India ka kya jana hai agar Kashmir ban jaye [What will India lose if Kashmir becomes an independent nation]?' They even joke that a cricket match should be held between the two countries with Kashmir as the prize.
When I told our people [India's Prime Minister Atal Bihari] Vajpayee was here in Pakistan, all of them said he should now sit down with us and settle Kashmir.
People here think a lot about India. The elders want to see the India where they used to reside 50 years ago. Pakistanis believe the Indian media is awesome. They admire it. But they also resent movies like LOC and Border. They want to know why the producer made a foolish film like LOC to vitiate the atmosphere in these good times.
The Pakistanis want to know why Indians can't forget Kargil if they can forget the treatment meted out to (Pakistan President Pervez) Musharraf in Agra? When I told my villagers I'll be going to Mumbai soon, they were excited. My aunt told me to visit Halwara in Punjab. Even after 56 years in Pakistan, her heart belongs there. The memories of India have not faded in the minds of our elders. 
The average person also views India as an imperial state that has deployed 600,000 army men in Kashmir. There are many families whose children have died fighting the Indian Army in India. There are numerous uneducated mothers in villages who proudly declare, 'My son became a martyr in Kashmir, fighting against India.'
Now, we also see mothers weeping when their children are sent without their knowledge for jihad with India or in Afghanistan. The Insaan Foundation had produced a play called Shaitan, which portrays the pain of such mothers. It shows how a maulvi sends his children to a Western school and keeps them safe while children of the poor who study in the madrassas are sent for jihad.
In the last act of the play, when the maulvi informs a mother of two children that her sons have sacrificed their lives in Kashmir, she asks him, 'Aap ke bete bhi shahid hue kya [Did your sons become martyrs]?'
This is the kind of unusual change that is taking place in Pakistan. These kinds of questions are being asked in the country now. The reality is that most mothers do not know what their children learn at the madrassas. What matters to the poor is the fact that the maulvis give their children food, clothes and shelter.
Shakil Ibrar is working on a project whose aim is capacity-building of village-level workers.