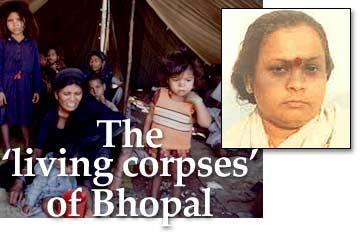 Jyoti [top, inset] has lost all hopes of getting married.
"I don't know what my future is," says the 36 year old.
She is one of the survivors of the world's worst industrial disaster, the Bhopal gas tragedy of 1984.
Jyoti, who studied till Class IX, was not so grim about her future a few years ago.
"Now it is all over. Whom should I blame?" she says in a barely audible tone.
After a few minutes, she breaks down. "Nobody ever asked me about it (marriage)."
She was 16 when methyl isocyanate gas leaked from the Union Carbide factory manufacturing pesticides.
She lives just opposite the factory in Jai Prakash Nagar, a working class neighbourhood on the outskirts of the city.
| | |
| --- | --- |
| | Also Read |
| | |
When the gas leaked out of the factory and moved south, Jyoti's house was among the first in line.
It was like any other middle-class family. Her father earned enough working as a salesman in a liquor shop. Jyoti has three sisters and one brother. Her younger sister Rekha, who is also unmarried, refused to speak on the issue.
Her father was bedridden for 11 years before dying of kidney failure and tuberculosis. "The last six months were painful. He had become like a six-month-old baby," Jyoti recalls, wiping the tears.

That is not all.
One of her kidneys has collapsed; she has breathing problems and an erratic menstrual cycle.
Her married sisters also suffer from menstrual problems. "They are tortured by their in-laws. Sometimes their husbands leave them here for months. They don't want to pay for the treatment. They tell us we cheated them by not telling them about the disease before marriage," she says.
"Our lives have become more disastrous than that night [of December 2-3, 1984, when the gas leaked]," says Jyoti, who always wears a white sari like a widow. "Now I see corpses walking every day. There are lots of girls like me."
The Bhopal Gas Tragedy: 20 Years On
"Hamare yahan paygham hi nahin aate [We don't get marriage proposals here]," says Bano Bi, mother of two unwed daughters.
People don't want to marry in this area because of the stigma attached to the victims. And it is true that most people in this neighbourhood suffer from tuberculosis and kidney disease.
Kamal Hassan, a Unani doctor who has a clinic in the area, told rediff.com: "Among the girls the most common problem here is of a disturbed menstrual cycle. It has been established by several medical reports that women exposed to the gas that day got this disease."
According to two activists, Dr R Bang and Dr Mira Sadgopal, 94 per cent of the women exposed to the gas have leucorrhoea, 79 per cent have pelvic inflammatory diseases and 46 per cent suffer from excessive menstrual bleeding.
An association of experts from different fields formed a Fact Finding Mission and released a report in November on the current status of the problem. The report says in the 1990s, 11 per cent women suffered painful menses, 10 per cent from irregular menses, 8 per cent from abnormal bleeding and 10 per cent reported white discharge.
The report acknowledges that women here have problems getting married. And the married ones have problems with their husbands.
Experts say the gas stunted the growth of many children who were present during the disaster and also those who were born later.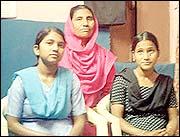 One such example is Bano Bi's daughters Noor Jahan and Bilkis. Though Noor Jahan is 28 and Bilkis 26, they look like teenagers. Their mother has not been able to find a match for them.
Says Bano Bi: "People think all the girls here are infected. They don't want to marry here. You will find unwed, overage girls in almost every home."
Though the problem of marriage is mostly with women, there are many bachelors too. "People think we have diseases and we cannot work or do heavy jobs. Many people have migrated to other cities. I couldn't, so I am here. If a [marriage] proposal comes, I will see," says Liaqat Ali, who is in his mid-thirties and does odd jobs.
"Many believe that men here became impotent due to the gas," he says.
Photograph: Pradeep Kumar | Headline Image: Rahil Shaikh