He lives in the eye of the storm.
Ram Gopal Varma is used to kicking up controversy but that's never stopped him from making films with daring subjects.
His latest, Nishabd, is about an old man in love with a teenager. The catch? It stars Amitabh Bachchan, hence the inevitable scandal. Raja Sen caught up with Ramu to get the scoop. Here's what they talked about:
So Nishabd has a pretty rocking new song. Where did that come from?
Oh yeah. I just wanted one song to capture the emotion of an old man, his angst, his guilt, his conflict. So I asked Vishal Bhardwaj to do a song. It was the first time we worked together after Satya, and he was great. He got Mr Bachchan to sing a song called Rozaana, and I think it really captured the mood of the film.
Your film is about a 60-year-old man and a barely-adult girl. Aren't you annoyed every time comparisons with Lolita come about, which was a story dealing with paedophilia?
I'm really not bothered. The media makes up its own mind. They'll call it 'RGV's Lolita,' because they think it's a good headline. It's an amazing novel and maybe I've been influenced by it, but Nishabd isn't about that.
So what, in your own words, is Nishabd about?
Fundamentally speaking, bodies age, feelings don't. Age is a relative thing, and at one level, it is all in the mind. But society has conditioned us towards so many wrongs. There are restrictions of family, religion... And then, in this case, there is not just an age gap, but the man is a married man in love with his daughter's friend. Which brings about, for him internally, a big question of sin. There is a sense of responsibility, but a question of temptation might overpower that.
So in Nishabd, I want to show his emotional state. I want audiences to feel his conflict, not judge him.
Amitabh: Senility doesn't signify the end of desire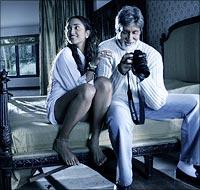 While the subject is a potentially volatile one, your trailers seem sensitive. Would you call this a film with shock value, or is that just to lure audiences?
See, the subject is the subject. I think there is no shock in Nishabd. You can write that for your readers right now. I think it's the most emotional film I've ever made. The thing about audiences is that we can't generalise them, it's very unfair. My film could connect with them, could offend them, sure. But my attempt is to definitely make an impact, based on the convincing power of the narrative. If that is strong, the film will work.
And Jiah Khan, the poison ivy for Mr Bachchan in the film, is a brand new heroine. Wasn't it a bit of a gamble taking an unknown actress for such a demanding role?
She's absolutely new, and that's what I really wanted. I wanted an unknown entity, someone fresh. That's the only way this film could be convincing. And I think she has the correct look for Nishabd.
Is she a good actress?
I feel there are only well acted or badly acted roles, and no such thing as a good actor or actress. In the same way, there are well directed or badly directed films, no good or bad directors. I think it's all about using the talent properly, in the context of the script. I think Jiah's done well in this film, and for this role.
Ram Gopal Varma's Nishabd, in pictures
And then there's Mr Bachchan...
Casting him was integral to the film. Because I wanted to take someone of such stature, someone that much larger than life, and then show a fall from grace. If someone that respectable, someone you look upto that much can get affected by these feelings, it'll make you and me take the situation that much more seriously.
I think it's his best [work], simply because it doesn't look like a performance. He's absolutely in the character. He's just there. It's phenomenal.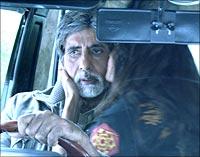 Did he have issues about the role, considering how even Lolita adaptations in the west leave big actors with floundering careers?
Yes and no. I think, because of Sarkar, we developed a great relationship and so he has this trust in me as a director. He and I both know I wouldn't do something that would be demeaning for him. And while he agreed to do the movie, he got the maximum negative feedback for accepting this film -- even more than agreeing to play Gabbar Singh in my Sholay! Even his longtime makeup-man, who has never disagreed with him, told him on the first day of the shoot that he shouldn't do this film.
But everyone who has actually read the script was completely moved by it. And I'm so grateful that he believes in me, and that he stood by the script.
Images: Amitabh Bachchan shoots in Munnar
You are a director known for giving new faces a break, particularly actresses. What do you think when most of these discoveries fizzle out into nothing?
See, stars work because of familiarity. They fill theatres because audiences know who they are. There is a brand equity. But there are films strong enough to not need stars, or films that should not be made with stars at all, where only fresh faces will do. So I make the decisions accordingly.
As for people who haven't been successful, it's because they haven't been utilised correctly. And sometimes we make mistakes. Mistakes aren't made wantonly, and if I see something hasn't worked, I don't want to repeat that mistake.
So what went wrong, say, with Shiva?
Everything. (Laughs) See, I still think the decision was not wrong. Any film is an idea. I decided to take Shiva forward, set it in a police setup, etc. I think I was wrong as I got confused about adapting it into the new setup. Also, I think at that time I had surrounded myself with people who kept telling me whatever I did was right. I'm not blaming them, obviously.
I wanted to make a film to correct the mistakes of James. I ended up making a film worse than James.
I think I just had a really bad year.
You're one of the directors on the remake bandwagon. How do you see this trend? What if someone decides to remake, say, Rangeela?
Emotions are constant in every story. There's no question of remaking Rangeela because it's a story everyone makes. A guy falls in love with a girl, she doesn't return his feelings until the end of the movie where she decides she loves him too. And you haven't seen that movie before? Or since then?
And if anyone wanted to remake it with the same characters and the same backdrop, all the best. Make Rangeela, man. It might be better than mine.
We're falling back on the there-are-only-seven-stories fundas. But aren't there different contexts and characters, enough to make a film original?
What is original? I don't know. I don't think I've ever done anything original in my life. Every line, every scene, every shot in my films has been taken from another film, a book, a play, real life, a TV show... The important thing is that you understand what you are copying. If you understand what's behind the shot, you'll never do it the exact same way. The trick is being able to put it in context of a film.
We are born with blank minds. And then comes information, information, information... We are what we learn. I'm not original, you are not original.
And speaking about originality, lets get to the topic that everyone originally started reading this interview to get to -- Sholay.
It's a great story. It's about an encounter cop, with his family killed by a gangster. He wants revenge but he can't get it from the police force, and so he gets two small time criminals to take care of his vendetta. It's set in Mumbai, now.
Images: Looking at Ramu's Sholay
And is it treated in the same genre as the old film?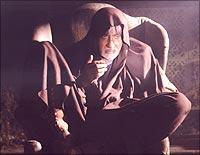 I've been very true to the spirit of Sholay. It is an adaptation but I have always found the story very dark and so this is a very, very dark film. And it's all about striking the balance. I just want people to walk in thinking about the old classic and then hopefully my film will make them see it afresh.
Another Amitabh adaptation that didn't do too well was Don. What did you think of that one?
I liked the idea of parts of that film, on paper. I liked the idea of SRK in that genre, playing an action hero/villain instead of continuing with the candyfloss romances. I didn't like the film.
After Shiva, how badly do reviews affect you?
You must never take it personally. I feel the whole world is running on bitchiness. And that includes you and me. If I want to read a review today, I won't go and click on the review that says 'great film,' I'll find the reviewer who's hated the film. And I'll enjoy reading that no-star review because the reviewer is sarcastic and mean and kills the film.
I understand that logic, and so why should that rule not apply to my films? I read the reviews, but never take them personally.
Even with something as scathing as Shiva? And aren't you worried about Sholay?
I think the best thing that could happen to Sholay was Shiva being such a bomb.
I think the critics just exhausted every negative they could use for that movie, and they have nothing left. I think for Sholay they will just hire the underworld to kill me, instead of wasting words.
On Friday the film will release, on Sunday the papers will say 'Ram Gopal Varma found dead.' (
Laughs
)