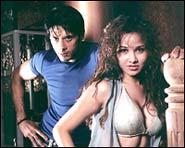 No new kid on the block will call his debut complete unless he can brag about his introduction scene. So, what's it gonna be? Playing a guitar in a swanky nightclub or beating up a baddie to pulp?

Oh come on, it's a Ram Gopal Varma production! There is definitely no place for a guitar in his scheme of things. There you are! Option two is the right answer. Our hero, James (Mohit Ahlawat playing the title role and sporting a ring on his right eyebrow), wins the ticket to exercise his shapely biceps against a bunch of unshaven troublemakers in the railway compartment.

Bang! Boom! Bash! Jammy boy dashes his phantom punches to discipline, as John Abraham would love to say, the unruly rogues.

Who is James? God knows! What we mortals are informed is just this much: boy from Goa, now in Mumbai to work as a security guard at a trendy nightclub. He also has a free membership at a swanky gym, which is the director's idea of cleverly creating an opportunity to showcase well-built bodies.

At the gym, James bumps into upcoming teen model, Nisha (Nisha Kothari trying to do her bestest impersonation of the original oomph star from the Varma stable, Urmila Matondkar).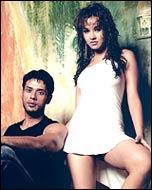 Nisha drools. James shies. A couple of fantasy songs, a few besotted gazes and zero dialogues between the two unconvincingly compel the viewer to believe that they might be in love. But unless someone puts a gun on my head, I refuse to comply.

This is no love story. Blame it on Radhe Narayan (Shereveer Vakil, a brutal face with a squeaky baritone), another unshaven brat who lusts after Nisha's flesh and James' blood. His politician brother and another jerk on the loose, Shanti Narayan (Zakir Hussain) aids Radhe in his dirty intentions.

Evidently, this is no romance. So, let us switch on the action mode. Brace yourself to be bombarded with the 1980s brand of mindless action, miserable clichés and sleazy dialogues.
 
Here's the list:
A corrupt politician: check
Shady cops: check
Sidekicks with bad hair days: check
Corrupt politician's lecherous brother with a menacing stubble: check
Brawls in discotheques: check
Wild chases in the jungles: check
Ferocious sniffer dogs let loose on the hero and heroine: check
A submissive wife to the politician: check
A system-defeated police officer with a conscience: check
Hero's good friend sacrificing his life trying to protect him: check
Heroine's good acquaintance losing his life trying to protect her: check
A heavy-duty kung-fu hustle climax with a samurai sword in pouring rain: check
Mad hatter villain mouthing eww-inducing lines like, 'Ab main tujhe khaoonga aur yeh sab dekhenge. Phir yeh sab tujhe khayenge aur mein dekhoonga" to the heroine: check
Awful demonstration of gore in sequences that include heart and palm stabbing, close-ups of bleeding noses: check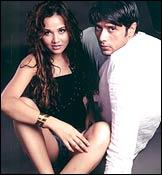 James introduces the much-hyped new face -- Mohit Ahlawat. As James, Ahlawat relies mostly on his clean-cut looks backed with Amal Neerad's stylish camerawork and a pounding background score to come alive on screen. He has a striking face and toned physique but his eyes are stiff and dialogue delivery feeble.

His leading lady Nisha Kothari is merely there to flash her Lolita pout and romp about the beach in skimpy and ugly clothes that show ample skin -- uncomplimentary bits too.

Debutant director Rohit Jugraj's homage to mentor Varma's (also one of the producers to James along with Sahara One and K Sera Sera) Shiva lacks the three key qualities of its classic original -- raw intensity, intelligent screenplay and powerful presences. His James is high on gaudy action, uninspired story-telling, poorly sketched characterisations, hopeless dub-overs, and lousy editing.

Oddly enough, whenever James and Nisha are shown conversing, the director never lets us into the conversation and resorts to background music. But he doesn't deter from inserting forced discussions when a lisping housekeeper (a hamming Rajpal Yadav in a cameo) has to make digs on Sanjay Leela Bhansali's Devdas. Incidentally, Jugraj assisted Bhansali for a
bit before he begged out, owing to 'creative differences'.

One question though: James sports an Om tattoo on the back of his neck and the Radhe Narayan bears a cross tattoo on the front of his neck. Is there some deep cinematic symbolism hidden here or just the director's way of saying hero-villain bhai bhai?

Enough said; James is a poor man's Shiva at best.