R
ediff.com invited readers to send in their reviews of Karan Johar's Kabhi Alvida Naa Kehna, and be part of the Rediff Movie Reviewers group.
The response was very good, and selecting the top ten reviews was quite a task.
On Monday, we featured Amodini Sharma's review.
Here is Abhishek Asthana's review.
Hi KJ,
I believed you when you said with KANK, you were not playing to the galleries and that it is a more mature movie. I stood in queue for tickets for two hours (okay, my friend did; I roamed around).
Well, you didn't lie. This is different and more mature cinema but excuse me, you lost your reputation in my eyes! I had always believed that no Indian director handled emotions like you, at least, when dealing with magnum opuses like you do and telling stories that you do. So it surprised me that with all your trademark gloss and glitter, you failed to add the required depth to this mature story.
I will talk about the actors later. First, I will start with your fabulous technical team.
A veteran like Anil Mehta can hardly do anything wrong behind the camera, especially with the picturesque New York skyline and beautiful winter.
But I can't heap as many words of praise on your editor Sanjay Sankla. The film is way too long and at times, boring, especially when your protagonists are around.
I liked the music but surprisingly, no song made me feel like burst into an impromptu dance in the theatre. However, I really loved the picturisation of Tumhi Dekho Na. The wonderful colour coordination in the song makes it a treat to watch and this is something I expect from a director of your calibre.
With production designer Sharmishtha Roy around, you can shoot in a slum and yet make it look glossy.
Though you have a co-writer, Shibani Bathija, for the screenplay, it still is very cliched and has a familiar (read repetitive) stamp of a KJ brainchild. If it still works, it is entirely due to the actors. And I am not even talking about the climax.
Frankly, it would have been better if you had not tried to justify the decision of the protagonists of walking out of their marriages because they never seem to be garner even an iota of sympathy.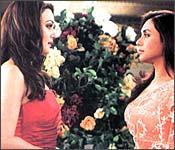 Indeed most of the times, I don't even understand your protagonists (like why do they love getting soaked in the rain?) and their actions. Why do they keep saying their marriage is not working and if so, why don't you show that to us?
In this regard, the worst written character is that of Maya (Rani Mukerji), who behaves most bizarrely and cries at the drop of a hat.
Maya and Dev (Khan) seem to hate their spouses almost without any reason and yet keep on justifying their 'love' for each other with inane dialogues. (The witty dialogues by Narayan Iyengar are very good otherwise).
So if this was your idea of maturity, sorry, it falls flat.
Though Sam (Amitabh Bachchan) seems a bit over-the-top character, I liked his exuberance, considering he was the only one who brought some cheer. Rishi (Abhishek Bachchan) and Rhea (Priety Zinta) are believable and well written and thankfully, not depicted bitchy, giving infidels any reason.
Shah Rukh has almost nothing new to offer and he manages to go on with his limited repertoire of facial expressions and hamming.
Rani has done so many roles of marriage not working (Saathiya, Chalte Chalte) that it seems that it comes to her as naturally as breathing. Preity Zinta fits to her role as T and so does Kirron Kher.
Isn't it just surprising that with a white stubble and age written visibly on his face, Amitabh Bachchan makes all that he does, entirely believable?
But my pick is Abhishek Bachchan. Do you know the secret to his stubble? If you do, please tell me.
It's been quite a long letter. Hope you enjoyed it. I will recommend your film to my friends, no doubt about that. But please Karan, next time do your homework more carefully. You have a reputation to protect.