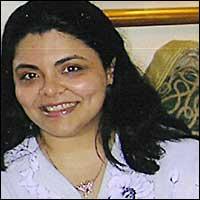 Scriptwriter Shibani Bathija is a newcomer in the film industry. An industry where scriptwriters are paid a pittance and often go unnoticed. Her first script, Fanaa, has been creating waves though, and now boasts of Aamir Khan and Kajol as the lead pair. The 37-year old has also co-scripted Kabhi Alvida Na Kehna with Karan Johar.
Bhatija tells Priyanka Jain about her big break, how she landed such a plum project, and why she decided to take up writing in the first place.
How did your first break come about?
The Johars are family friends, and knowing Karan definitely helped in getting my first script read. After that, however, it is all based on merit. No one is going to invest crores in a film because they know you. He saw the script and gave it to Aditya Chopra.
I then wrote Kidnap for Yash Raj, which was to be directed by Sanjay Gadhvi. The film was to take off before Dhoom, but there were date issues. Looking at its success, Dhoom 2 then took precedence, hence the huge gap. So, although my first film will be seen this year, I have actually been writing for 3 years.
How did Fanaa come about?
It is my first script to be released. I happened to be chatting with Kajol, and we were talking about her comeback. Now that she has a baby, she can't do a film that involves a lot of travelling. That set me thinking. I came up with a basic plan that she loved. Later, when I bounced the idea off Aditya, informally, he loved it too. The first draft was written in three weeks.
Did you know that Aamir would be in the film?
No, that was a surprise, the icing on the cake. When we went to narrate the story to him, I was completely pessimistic. I had always heard he was so demanding, but he said it was very good. I was shocked.
Did he provide any creative inputs?
His inputs are wonderful on any level. He had a couple of valid points to make about the script. Nothing drastic. Director Kunal Kohli contributed his inputs too.
Aamir and Kajol are both strong personalities. How did you manage to keep the balance?
It's shocking how they have not been paired together before. The combination is magical. They are very talented, but very different, which adds to their performance and the film. They complement each other. Kajol was definitely my muse, but what was surprising is how interesting Aamir's character became. I love both characters equally, for different reasons.
From conception of the idea to meeting the producer, to filming and postproduction -- what is the involvement of the writer like?
It is different for different people. Kidnap was supposed to have Sanjay Gadhvi, whom I worked with very closely during the evolution of the story. For Fanaa, I went to the producer, who put the cast together. I then began working with Kunal Kohli and the producer. They do call for my inputs as and when they require them. There is no hard and fast rule that I have to be on the sets, but I go once in a while.
Tell us about co-scripting Kabhi Alvida Na Kehna with Karan Johar.
It was Karan's story and I worked with him on the screenplay. As he has a very hectic life in Mumbai, we wrote in four different locations – Pune, London, New York and Goa. At first, I was scared because I am so used to typing straight away into my computer. I am not used to talking out loud. I was hoping I could bring what was expected of me to the table. We found a rhythm though, and it was very satisfying.
I have learnt a lot from him. When you interact with someone on a creative level, you start to follow his or her wavelength and pace. He has a wonderful sense of humour and is able to translate that into his cinema. I can't believe how many times I fell to the floor laughing, while listening to him.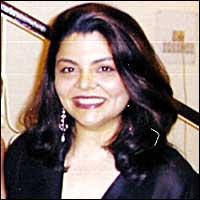 What are your favourite movies?
The black and white age is my favourite. Guru Dutt, Raj Kapoor, Bimal Roy, the B R Chopra and Yash Chopra films -- I love the utter simplicity with which the stories were told. In more recent times, I have enjoyed Kuch Kuch Hota Hai, Dilwale Dulhaniya Le Jaayenge, Lagaan and Rang de Basanti.
How did the writing bug bite you?
I have always loved reading and writing, since I was in school. My father used to produce films but, typical of a youngster, I wanted to chart my own path. I did my bachelors in America, came back and dabbled in advertising for a while, then went back to do my Masters at San Francisco State University in Film and Television. My focus then was writing for television.
I came back to join a TV channel as Creative Manager. I stayed there for two years working on a show called Hum Pardesi Ho Gaye. During that time, I had a lot of interaction with writers and realized I really had an urge to write. I was also expecting exacting standards from writers who were under a lot of pressure to write 3 or 4 shows together. In retrospect, this meant I was a frustrated writer trying to impose my way of doing something. When the realization came, I decided to start writing.