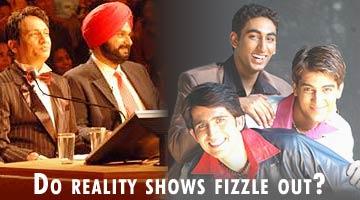 Reality shows revolutionised Indian television last year.
Abhijeet Sawant and Amit Sana became national sensations overnight, thanks to Indian Idol. Viewers had heated arguments about who they thought was more deserving of the title.
And even before Sunil Pal won the The Great Indian Laughter Challenge, people knew him and all the finalists.
But in its second season, many reality shows have failed to create an impact.
Last year's Lakme Fashion House -- the Star One reality series where contestants got a chance to show their design sense and the winner won a crash course at the House of Versace -- has not had a second season yet.
Fame Gurukul, which made Qazi Tauqeer and Ruprekha Banerjee stars, too has yet to announce a second season.
Do you think reality shows are one-season wonders? Have shows like Indian Idol failed to generate the kind of response they did in the first season? Share your views with us!