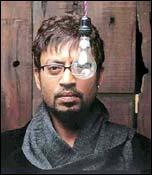 Pooja Bhatt had once told me, "Indian women are divided into two kinds of audience – the first kind feel John Abraham is hot and the second find Irrfan Khan more appealing."
But the critically acclaimed actor, who has a sizeable fan following, has a modest reply. "I don't think that I'm counted among handsome stars. I want people to think of me and like me. But I don't waste my energy wondering if I am handsome or not."
I met up with Irrfan to ask him about his new film, Chocolate, which releases this week. Excerpts from a conversation:
What is Chocolate about?
Chocolate is an unusual thriller. The film starts with a group of people who come together and want to start a rock band. But they come from different fields, and not from the music industry. Like my character is an artist and earns money by sketching people by the roadside. Arshad Warsi is good with computers.
So they come together but somewhere something goes wrong and they get entangled into bigger issues.
How was working with so many actors like?
Anil Kapoor is a very experienced and committed actor. We would usually be in character and so there was an interesting kind of tug of war because our characters have an inherent tension between us. His character always interrogates me and tries to learn the truth from me. But there's no problem between us.
I had a great time with my other co-stars -- Emraan Hashmi, Tanushree Dutta, Sushma Reddy and Arshad. Shooting in London was good.
But don't ask me about my experiences on the sets. That's censored!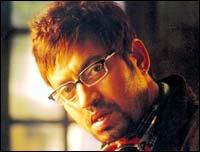 Tell us about debutant director Vivek Agnihotri.
Technically, you can call this Vivek Agnihotri's first film. But when you see the movie, you will not be able to say so because he is very good with his craft and treatment.
Why people are talking about Chocolate? It's because of the team he has arranged. The camera work will be the highlight of this film.
I was not apprehensive at all when I signed the film. I knew his work.
Forthcoming films?
I'm doing a film with Mira Nair called The Namesake, Naseeruddin Shah's Yu Hota Toh Kya Hota, Aditya Bhattacharya's (son of legendary director Basu Bhattacharya) Dubai Return and Tanveer Khan's Deadline.
I will also be starting an international film called Partition. (The film stars Jimi Mistry and Neve Campbell and will be directed by Canadian director Vic Sarin.)
Tell us about Namesake.
Namesake is the journey of a middle-class Bengali student, played by me. That's why I had to lose so much weight.
He goes to America for further studies, and dreams of exploring the world. He settles down there and marries a Bengali woman (played by Tabu).
In this film, Tabu and I have a very subtle relationship. We're not the type who says 'I love you' to each other like Americans do. But even then, you get the feeling that this couple will die for each other.
We required a different kind of chemistry for Namesake, unlike in Maqbool where we had an intense love story.
Working with Mira Nair was excellent! She has been in the industry since a while, and has given us wonderful movies.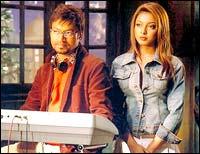 How do you select your roles?
I always go with instinct. And I must also enjoy the story. I loved the story of 7 ½ Phere. I went to some theatres screening the film and found that people actually enjoyed it, especially in Delhi. But it was a wash out in Mumbai due to the heavy rains on July 26.
I loved my performance in that film, and I had a great time with Juhi Chawla, the director and the entire unit. I have not seen such kind of films in the Indian film industry. I wanted to do it because the story was so unusual.
Dubai Return is another comedy film.
I find message-oriented films very boring because watching a movie should not be like a lesson taught in school. People must get entertained. That's why people liked Maqbool. It had a beautiful story.
Even if you want to send a message, it must be smuggled in and not up front. I don't like issue-based films. I like realistic films, which have a sense of fantasy like Haasil, Hazaaron Khwaishen Aisi, Maqbool or Naseer saab's film.
I want to learn from Naseer saab and that's why I'm doing his film. And it has a fantastic script.