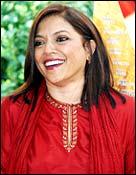 The casting of Mira Nair's next film,
The Namesake
, has been hogging headlines for a while now. Rani Mukerji was approached first for the movie. The deal fell through and
Mr And Mrs Iyer
star Konkona Sensharma was roped in. She dropped out as well. Now, Tabu has been signed on.
"I wanted a Bengali [for the title role]. I really liked Rani and wanted her to do the film," Mira said in a videoconference. "I liked Konkona in Mr and Mrs Iyer. But her mother Aparna Sen is starting her own film with Konkona at the same time. There was a clash of dates."
Mira said time was the deciding factor. "If I had waited any longer, I would have missed the winter in New York, and a large part of the film takes place in the New York winter. The snow does not last until mid-April. So I could not delay any further."
| | |
| --- | --- |
| | More on rediff.com! |
| | |
"The great benefit out of this is Tabu. We needed a 19 or 20-year-old young bride, who becomes a mother and then a widow, and then the mother of a 27-year-old son. Tabu, because she is older, can play a 25 and 45-year-old woman more convincingly and with more panache than Konkona."

"Tabu has extraordinary range and depth."

With Namesake, the Maqbool pair of Tabu and Irrfan makes a comeback.

Sipping on her morning tea, the director said she was pleased. "Irrfan had made his debut in my first film Salaam Bombay, so I'm happy to have him in Namesake."

Namesake also stars Kal Penn, who Mira described as the "fastest rising Indian American star this side of the ocean."

"Kal's film Harold And Kumar Go To White Castle was a hit and all the 13-year-olds in America know and love him," she said. "Namesake will be his first dramatic role. He is an extraordinary actor. He has just signed on as Superman's best friend in the new movie called Superman Returns. As soon as he finishes shooting for Namesake, he will shoot for that. So by the time Namesake comes out next year, everyone will know Kal Penn, which will be great for us!"

Mira had first approached Abhishek Bachchan to play Kal's role, but Abhishek turned it down. "Maybe Abhishek had problems with his dates, but he was never clear about that. Maybe [he changed his mind] because of some love scenes and nudity in the film," she said.

The director auditioned actresses from around the world for Kal's 'bombshell girlfriend' – who later becomes his wife – and chose Zuliekha Robinson. The actress, whose mother is from Kolkata, lives in Los Angeles and was recently seen in films like Hidalgo and The Merchant of Venice.

Talks are on with Kate Hudson to play Kal's American girlfriend.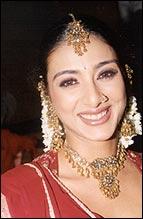 The $9.6 million film is based on Pulitzer Prize-winning writer Jhumpa Lahiri's best-selling novel, which Mira happened to read on a flight last March.
"When the plane landed, I called my agents immediately and told them we had to buy the rights of this novel. It was deeply moving. The story – about this girl who moves from Kolkata to Cambridge Massachusetts and ends up in New York City – is almost exactly the road I've travelled as a young girl. So it's very uncannily my story," the director, who has won critical acclaim for her films such as Mississippi Masala, said.
Mira bought the rights within a week, after a long talk with the writer. "Jhumpa had her first baby, a daughter, two months ago. She calls Namesake her second baby!"

"Jhumpa will also act in the film. She will have a one-line part."
Mira co-wrote the script with her best friend for 30 years, Sooni Taraporewala. About 80 percent of the movie is shot in New York, the rest in Kolkata.
The film is co-produced by Fox Searchlight and UTV, who produced films such as the Shah Rukh Khan starrer Swades and the Hrithik Roshan's Lakshya.
"I've always looked for a financial home for my films in India," Mira said. "Except for Salaam Bombay, which was financed by NFDC [National Film Development Corporation of India], the finances for my other films have come from across the ocean. It was very important for me to have a partner in India because I am very much an Indian. So it was wonderful that [UTV's] Ronnie Screwwala and I connected. I've had a relationship with Fox for a while. They are undoubtedly the best in the business, especially in film distribution. You can see that from the recent Academy Award nominations – Sideways and Kinsey are their films. It's very important for me to get out there."
Mira said the movie would stay "fairly close to the book. I have made only two changes. One change is that Ashima [the protagonist] is a singer in my film because I want to use music. I love to create soundtracks for my films. Another change – to keep the budget in check – is that I have changed the Cambridge Massachusetts location in the book to New York."
After
Namesake
, Mira will direct the Hollywood version of Vidhu Vinod Chopra's Bollywood hit,
Munnabhai MBBS
. Chris Tucker may play the role Sanjay Dutt played in the Hindi version. Mira plans to approach Tucker officially after the script is finalised.