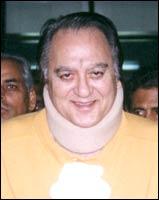 Thousands of people gathered at Sunil Dutt's home in Mumbai to pay tribute to the actor-politician after he passed away on May 25.
That was kind of love and adulation that the man -- who has consistently been described as 'rare', noble', 'kind' and 'decent' -- generated. When rediff.com asked readers to share their experiences with Sunil Dutt, the mails didn't stop coming in.
Mahesh Vaswani: I met Sunil Dutt for the first time during the 1992 civic election when I contested as an independent candidate from Bandra (northwest Mumbai), Ward number 71. I had painted my election propaganda on his office wall. The next morning, he read the message and asked the watchman what he was doing when the message was being painted.
His secretary ordered the wall cleaned immediately but Sunil Dutt intervened. He let it remain until the polls were over. Interestingly, neither the Congress candidate Prabhakar Vaidya nor the BJP-Sena candidate Sumit Kadam had put up any such graffiti on his office walls.
Later, in 1993, I was writing for the Saamana newspaper and covering the Mumbai bomb blasts trial. During the lunch break, Sanjay Dutt hugged me and asked me to tell other media persons that he was innocent. The judge did not like Sanjay's action and warned me about the incident. I left the court. To my surprise, Sunil Dutt, who was waiting outside in his car, was aware of the incident.
He told me to keep doing my duty sincerely. Then, he took me out for lunch. That is how our friendship began.
Anyone needing admissions, medical bills sponsored, water, electricity, tube wells in the slums or any other problem -- even if it meant calling up the DCP (Deputy Commissioner of Police) to get an innocent hutment dweller released -- could turn to Duttsaab. I pray that God gives his family, particularly Sanjay Dutt, enough courage to continue the mission his father began.
Clayton Rebello: I'm from Mumbai and studying in the US now.
In the mid-1980s, when I was five or six years old, Sunil Dutt visited Andheri (a Mumbai suburb). I was playing with some friends. When he arrived, a crowd gathered near my building, and my friends and I joined it.
I wasn't too familiar with him but I started screaming his name as he passed by. He looked at me, smiled, removed one of his garlands and put it on me. I was so happy, I ran home and showed it to my mother. My mother put that garland on the altar of Jesus. What was surprising was that the garland stayed fresh for a long time.

Omprakash Mundra: I met Sunilji in Greece, during the Athens Olympics. I met him with my wife during the shooting and tennis events. His simplicity and habit of mixing with the common people is unbelievable. It's shocking to hear of his sudden death.
He dreamed of a grand New Delhi 2010 Commonwealth Games and for the Olympics to be hosted in India in 2016.

Nitin Bhavsar: It is really sad that Sunil Dutt is no more with us. I had the opportunity to shake hands with him.
He led the Shanti Yatra padayatra to deliver the message of peace to the country. This happened during my school days (in the mid-1980s).
The yatra was passing through our town Shahapur (which falls under the Thane district in Maharashtra). An excited crowd of about 5,000 people was waiting for him. I was one of them. Sunilji arrived at around 10.15 pm. He was accompanied by many activists.
When I first saw him, I was impressed with his personality. He was such a tall person. He was sweating heavily. I could gauge that he was tired but there was no such indication in his behaviour.
When he shook hands with me, I became so happy. I started feeling proud about myself. There was really a warm feeling.
He had a big palm. I was looking so small in front of him. He walked with such enthusiasm that everybody got motivated.
Mr Dutt's sad demise is shocking. May his soul rest in peace.

Priya Karnik: In school, we had done a play on drug awareness in 1986. I played the role of a drug addict. After the play, Sunil Dutt congratulated me on my performance. He thought it was very genuine. I also got an award from him.
Anand Baijnath Mehta: Eight years ago, Sunil Dutt agreed to inaugurate a hospital built by my polio-affected brother-in-law, Dr Vikram Trivedi, in Bhopal. I was to welcome him.
As I started my speech about how, 50 years ago, a polio-affected boy took the decision to become a doctor when he grew up and set up a hospital for the free treatment of polio victims, Duttsaab, who was talking to the Madhya Pradesh chief minister, stopped the conversation and commented, "That is the type of resolve we need to fight diseases."
He was a compassionate man and made it a point to spend time with my son Rajeev, who is also severely polio-affected, encouraging him to face life.

Rajender Dichpally: I met Duttsaab in June 2003 when he visited the Big Apple. He was staying at the Radisson hotel. I asked if I could meet him. He was very polite and asked for my identity. I was then the youth president of the Overseas Congress.
He told me to come the next day at 9 am and wait for him in the hotel's lobby. At the exact appointed time, he came down from his room and met us. He was in a lot of pain due to his back problem and was using a walking stick. I had taken a delegation of community leaders to meet him; he spoke to everyone and let every member of the delegation to speak to him about certain issues.
We had breakfast with him at the hotel and he was gracious enough to wait for everyone to finish his or her breakfast even though he was in a hurry to rush to another meeting.
He told us a lot about himself, how he migrated from Pakistan, his struggle during his wife Nargis Dutt's illness, their stay in New York for her treatment, his meeting with then prime minister Indira Gandhi when she visited New York during that time (He was taken to her by then external affairs minister and his good friend Shri Natwar Singh).
He also told us about his padayatra and how everyone welcomed him when he entered the Golden Temple even though there was turmoil in Punjab. He told us about his meeting with Captain Laxmi Sehgal and other members of the INA and associates of freedom fighter Netaji Subhas Chandra Bose and his travel to the places visited by Netaji.
At the end of the meeting, we had a lump in our throat. We were mesmerised by this great personality. The meeting that was scheduled to finish in 15 minutes lengthened into two-and-a-half hours. Finally, we had to remind him of his other appointments.
Sunil Dutt was a gem of a person and a great human being. His death is a great loss to the country and the many issues he stood for. The fact that he has never lost an election speaks of his popularity among the people.
Readers share their memories of Sunil Dutt:
'He was called Shantidoot'
Photograph: Jewella C Miranda