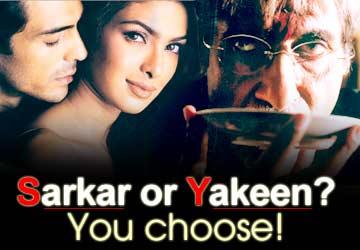 This Friday is a big one for Bollywood.
Ram Gopal Varma's [ Images ] much awaited film, Sarkar, stars the father-son duo of Amitabh [ Images ] and Abhishek Bachchan [ Images ]. From the promos, the movie looks inviting.
Despite Varma's denials, rumour mills are abuzz that the movie is based on Shiv Sena [ Images ] supremo Bal Thackeray's [ Images ] life. Amitabh plays the protagonist. The director insists this film is his take on Francis Ford [ Images ] Coppola's 1972 classic: The Godfather.
The other release this Friday, Yakeen, stars Priyanka Chopra [ Images ], one of Bollywood's hottest actresses. Her first film with Arjun Rampal [ Images ] -- who, by the way, became the father of a baby girl last Friday -- didn't create any ripples. But Yakeen [ Images ] shows more promise than Asambhav.
Which of these movies are you waiting for most this weekend? Let us know!