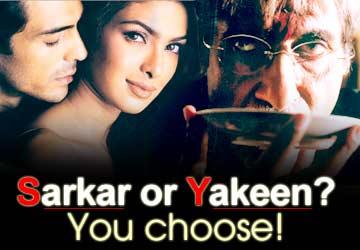 This Friday is a big one for Bollywood.
Ram Gopal Varma's much awaited film, Sarkar, stars the father-son duo of Amitabh and Abhishek Bachchan. From the promos, the movie looks inviting.
Despite Varma's denials, rumour mills are abuzz that the movie is based on Shiv Sena supremo Bal Thackeray's life. Amitabh plays the protagonist. The director insists this film is his take on Francis Ford Coppola's 1972 classic: The Godfather.
The other release this Friday, Yakeen, stars Priyanka Chopra, one of Bollywood's hottest actresses. Her first film with Arjun Rampal -- who, by the way, became the father of a baby girl last Friday -- didn't create any ripples. But Yakeen shows more promise than Asambhav.
Which of these movies are you waiting for most this weekend? Let us know!