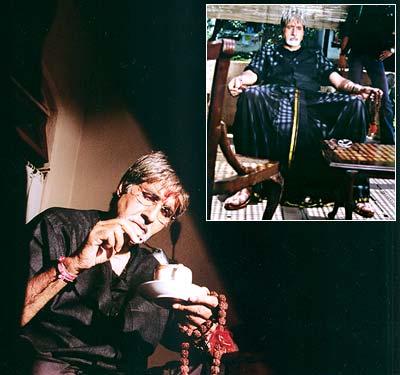 One of the year's most-awaited releases has just finished its tight 40-day shooting schedule, and here's an exclusive look!
Sarkar brings the edgiest names in Indian cinema together, a Ram Gopal Varma directed film, starring the explosive combination of Amitabh and Abhishek Bachchan.
Also, the film is said to be Ramu's tribute to The Godfather.
This film, however, is not about organised crime. In fact, Sarkar revolves around a politician and his family.
Amitabh Bachchan plays the patriarch, Subhash Nagare (is the rhyming with a certain politician in Mumbai a coincidence?), and the film revolves around him and his sons, Shankar (Abhishek) and Vishnu (KK Menon).
The promos (soon to be released on television) look fantastic and hard-hitting, shot crisply in black and white, with the Bachchan baritone booming menacingly throughout.
The promo kicks off with a Mahatma Gandhi quote: 'Think Rightly. Act Rightly. Live Rightly.'
This spell breaks with Amitabh's voice booming out, 'Mujhe jo theek lagta hai, main vohi karta hoon.' (I do things that look right to me).
The black and white shots include intense close-ups of Amitabh, his cup of tea, and the rudraksh beads hanging from his hand. By the last frame of the promo, we can see Amitabh in colour.
Sarkar is a K Sera Sera Production and is slated to release on July 1.