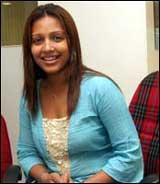 Kaliyon ka chaman girl Meghna Naidu stole hearts when she chatted with rediff.com readers on July 26, as is evident from the first part of the chat transcript.
For those who did not catch her at the Rediff Chat, here's the second and last part of the transcript.
Irsi : most flattering complement u ever got?
Meghna Naidu : I keep getting complements all the time. When an old uncle or an auntie complements me on anything, I think that's the most flattering. Whatever they comment.
---
kunalmomaya233 : Meghana don't u feel shy while doing bold scenes
Meghna Naidu : yes, it is embarrassing while doing scenes like that because there are a hundred people around you. And you don't know the person whom you're going to be acting opposite.
---
kuldeep : whats special about you that makes u different from others
Meghna Naidu : I think you'll have to ask the people whom I work with!
---
mrinal1 : hi Meghna.......where do u rate urself in this industry? R u satisfied with what u achieved so far?
Meghna Naidu : I have just joined the industry. It's just a year that I've been in the industry. WHatever I've achieved so far is great, because a lot of people take about 5-10 years for popularity, and I have got it within a year, so I'm happy.
---
kcpkcp : DO u feel so much of skin showing is the mantra to become popular?and is it good for indian movie?No family will watch the movie like this?
Meghna Naidu : I think skin-show comes in a form of character that you play on screen. If I'm playing a model, obviously I can't be in a sari all the time. And I think people should get out of all the old thinking and watch movies like this - it's an eye-opener to all the youngsters in India.
---
Kanishka : in your words what is the must for for an aspiring actor or like?
Meghna Naidu : self-confidence and determination.
---
Shivinder : so meghna .wat happende no reply .seems here alos there is long queue for ur admirers.thats cool.so 5 yrs down the line whr u se urself in bollywood
Meghna Naidu : I see myself doing better movies, better roles.
---
Subbu : Is your life ambition to be come an actress or is it an accident? What do you wanted to become? Any childhood dreams?
Meghna Naidu : It is by accident. I always wanted to work in the US, or probably be an air hostess.
---
maddu : MEGHNA whats about your show at gorakhpur
Meghna Naidu : Yes, I did a show in Gorakhpur and it was a crazy experience. But a great crowd and I'd love to come back to Gorakhpur again.
---
bullseye : what is your dream holiday destination
Meghna Naidu : it will have to be Venice, and Egypt. and in India, it will be the backwaters in Kerala.
---
bhatiashish : don't u think the easiest way to get in film industry is to appear in sizzling hot vedios and then get the "lucky break" do u think there is any scope or appreciation for real talent???Pls answer honestly
Meghna Naidu : I don't think that's the easiest way. But yes, if you do a music video and it does very well, then you do have an option to do films. But you have to work very very very hard to get into the industry. I know people who have struggled for more than 5 years and still not got a break.
---
nagu : Hi Meghana : As per u which directors are best rightnow
Meghna Naidu : We have a lot of newcomer directors coming up, in which you have Madhur Bhandarkar, Nikhil Advani and of course you have the Chopras and Subhash Ghais also. There are a lot of good directors.
---
Kanishka : do u like SRK? Meghna
Meghna Naidu : yes, I do like Shah Rukh Khan. I think after Amitabh Bachchan, he is the second GOd of our industry.
---
devendu : hi meghna whats ur favourite wear
Meghna Naidu : jeans and a t-shirt. I even settle down for kurtis at times. My favourite of all would be a salwar-kameez.
---
naren25 : I think that the sexy cinemas gives the ideas for the college going student to act indecently. Your comments Pls
Meghna Naidu : I don't think so at all. I don't think films have a very big impact on college students.
---
BHAI : Miss Megana Do you have any near future stage shows in my place Dubai. Let me know not to miss.
Meghna Naidu : I will definitely let you know. I was going to come to Dubai this month, but the show got cancelled.
---
Meghs : Hi Meghs - We would like to see you in Malayalam films also. I think you will be a success
Meghna Naidu : I'd definitely like to do a Malayalam film. My favourite actors in Malayalam are Mohanlal and Mammooty.
---
AC_cool : how do u rate hawas with murder
Meghna Naidu : I think Hawas and Murder were on the same lines, but it's just that Murder had better packaging and of course you had Mahesh Bhatt to back the whole package, whereas the whole team in Hawas was new.
---
Niru : Would you like to work with Maniratnam?
Meghna Naidu : I would love to work with Mani Rathnam. I think he's a brilliant director, and it would be an honour to work with him.
---
coolraj : Hi Meghna.... this is rajesh here.. and i hv been ur fan since ur very first video... how diffucult was the translation from music videos to movies?
Meghna Naidu : I just did one music video. And about seven movies. The transition has been great. I have got to learn a lot of things, and will also learn a lot of things in future.
---
yuva : have u learned acting from any institue or ....what?
Meghna Naidu : I have not learned acting. It's just natural to me. Yes, I learnt a lot from my south indian film directors. They helped me a lot with my acting.
---
matarese : so...hi..meghna....what abt tennis...still in to it..??
Meghna Naidu : I don't get time at all.
---
debutoy : I've heard that apart from being a good actress you also sing, is it true?
Meghna Naidu : no, I don't sing at all. I'm probably the worst bathroom singer.
---
nvivek : which is the most funniest proposal u ever had?
Meghna Naidu : The funniest is when boys ask me if I could be their sister!!
---
iamsam : In males which combo do u like intellect with good looks or good looks with humour ?? pls reply at least one querry of mine
Meghna Naidu : I think a mix of good looks, intellect and humour.
---
badmash : Are you ready to bare it all if u get an offer from Hollywood?
Meghna Naidu : no, I would not.
---
GermanboY : Meghna ji-- Tarasti nazron ki pyaas ho tum, tadapte dil ke aas ho tum, ……… bujhti zindagi ki saans ho tum, phir kaise na kahu kuch khaas ho tum
Meghna Naidu : Wah, wah! Very good.
---
shetty : Hi, what is your favaourite movie?
Meghna Naidu : My favourite movies are Seeta Aur Geeta, Chalbaaz, and Viruddh.
---
BHAI : You asked, Miss Megana Thank u for your reply and we (crazy? film fans) wish you all the best in your carrer. Thank you.
Meghna Naidu : thank you so much.
---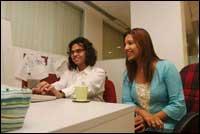 akshay_070 : who is ur fav co-star?
Meghna Naidu : definitely would be Mithun.
---
umesh bhat : who is your favourite actor in telugu ?? will you atlest answer my question now
Meghna Naidu : Nagarjuna and Venkatesh.
---
keyur : well meghna who is your idol
Meghna Naidu : my dad.
---
jav_gold : Hello Meghna..Any plans of coming to Chicago.!..?
Meghna Naidu : oh yes. I will be coming there end of this year!
---
prashantkolhe101 : hey megha tell me with which actor u like to work in hindi flim & like to do work with goivinda in comedy film?
Meghna Naidu : I would love to work with Govinda in a comedy. I think he has a great sense of humour.
---
aditya1231 : am happy that u slapped some dudes for disrespecting the national flag..keep up the good job....u r not only hot n sexy but u got a pretty kool attitude 2..
Meghna Naidu : thank you.
---
Kanishka : Meghna, who was the first person to give you break into this industry?
Meghna Naidu : Radhika Rao and Vinay Sapru gave me my first break in the industry. They directed my video, Kaliyon Ka Chaman.
---
lovenaidu : Meghna, what are ur other qualifications besides acting? I head u wanted to work in US..in which field?
Meghna Naidu : I was coaching tennis in the US for about 4 years, and I wanted to work there for the same reason.
---
babe : who do you think is the sexiest female around in bollywood
Meghna Naidu : bipasha basu.
---
UMTSUE : Do u hve interest in politics?
Meghna Naidu : no, I'm not interested in politics. At all.
---
marthyan : Hi miss meghna how u rate your forthcoming movie , who is your co-start in those movies. Along with your answer if u could say about ur plan to performing in kuwait ---
Meghna Naidu : My co-star in Rain and Jackpot is Himangshu Malik. And there's no plan of performing in Kuwait, but if I get one, I would not miss the chance.
---
singh_punjab : hi meghna! do u like punjabi food
Meghna Naidu : I love punjabi food.
---
shelly : hi meghna...any plans of coming australia?
Meghna Naidu : I was in Australia just 3 months ago. It's a beautiful place. Yes, I will come back very soon.
---
harsh : hey meghna if someone says meghnna is object of desire how do u feel that time
Meghna Naidu : Yes, I do feel bad at times because people don't take me seriously as a good actress.
---
shadummy : most horrible expenirence in your life till now
Meghna Naidu : when I fell off the stage while rehearsing just two hours before my main show! I got 3 injections in my back, wore two waistbelts, and still did the show!
---
debutoy : Meghna ! Do you believe in God?! If so, how religious are you?
Meghna Naidu : yes, I do believe in God. I am quite religious. I do pray a lot.
---
robihere : Would you go for change in name or spellings ? Eg. Shobhaa or Ms. Lamba as Mallika !
Meghna Naidu : no, I would not change my name.
---
aabb : meghnaaaaa how long do u work out in a day...do u believe in it...r u a foodie
Meghna Naidu : I work out at least an hour in a day. I love food, but I tend to control myself most of the times.
---
Kanishka : Meghna, What is your qoute of the day?
Meghna Naidu : live for today, take life as it comes.
---
divyashree : Meghna, What is your greatest achievement till now? Do u think u have the talent to survive in the competitive industry
Meghna Naidu : I have done a little bit of good work, and yes, if I have survived till now I will survive in the future also.
---
divyashree : Meghna..who will you prefer as a director between Guru Dutt,K.Asif and Raj Kapoor ??? please reply
Meghna Naidu : If I had a chance I would love to do a movie with each one of them. They are all great directors in their own right.
---
divyashree : recently read somewhere that, u had a terrible experience while coming out of a theatre in south mumbai, can u elaborate more on the matter, tnx
Meghna Naidu : yes, I did have a bad experience recently outside a movie theatre. 4 boys tried to behave indecently but my boyfriend taught them a lesson.
---
debutoy : Tell me Meghna ! How different are film stars from the common people?!
Meghna Naidu : They are not different people. They are just normal people like us. It's just that crores of people see them and like them in movies, that's why they have to be behind closed doors most of the time.
---
gopa1 : who is ur closest friend in the film industry
Meghna Naidu : I have a lot of friends in the industry, but my closest friend is not from the industry.
---
Mandy : You look awesome...How do you plan to go home now with all this rain :-)
Meghna Naidu : I'm going to drive back home.
---
debrup : If you are to choose between doing a movie where you get a role similar to Rani Mukherjee in Black and doing a music video for the Director who gave you first break, which would you do ?
Meghna Naidu : I think I would definitely go with the music video director who gave my my first break. Because if they trusted me so much, I would definitely do anything for them!
---
Mandy : Which college did you go to?
Meghna Naidu : Bhawans College in Andheri, Mumbai.
---
sid10 : Why don't you sing songs on your own in the movies in which you act . that will give more natural feeling .
Meghna Naidu : I would have sung songs if I had a good voice. THe sad part is, I dont!
---
DonJuan : meghna r u competing mallika sherawat? shud we be hoping for ur controversies, mms & all
Meghna Naidu : I am not competing with her at all.
---
Sundar : Hey Meghna, which is your native, will u answer me atleast now
Meghna Naidu : I'm from Vijaywada, in Andhra Pradesh.
---
aabb : u seem to be scared to answer bold questions..if u rnt answer this.."why do u think none of ur films have done well despite a lot of skin show????"
Meghna Naidu : Except for my first films, Hawas, I don't think any of my films had any skinshow. I think people expected a lot of skin-show even in my other films, and that's why they didn't accept them!
---
cheri : i like ur acting, keep it up da
Meghna Naidu : Thank you da. It's been great chatting with all of you. I would love to answer all of you, but I really have to go now.