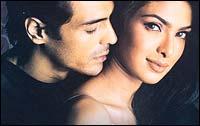 I went to see Yakeen without any expectations. After watching it, I thought it was entertaining, yet very predictable.
The film starts with  Nikhil Oberoi (Arjun Rampal) and his wife Simer (Priyanka Chopra) having an accident.
While Simer escapes with bruises, Nikhil's life is in danger. But he eventually recovers, but loses his memory.
| | |
| --- | --- |
| | More on rediff.com! |
| | |
Now, he has to depend on his wife to know his past. But soon, he realises something is not right. Apparently, he was about to divorce his wife just before the accident. It appears that she was having an extramarital affair with someone called Kabir (played by Sudhanshu Pandey).

What happens next forms the rest of the story.

The movie starts well but tends to drag later. The end, though predictable, is very dramatic.

Yakeen is a good attempt by first-time director Girish Dhamija, who started his career as a dialogue writer for films like Dushman, Sangharsh, Kasoor, Raaz and Zakhm. But here, the story fails to thrill. And to think that the script is by Vikram Bhatt, maker of such thrillers like Kasoor and Raaz!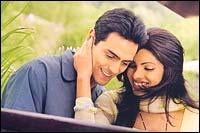 Songs are the worst part of the film. And to make it worse, they are repeated several times.
Arjun Rampal looks good and performs well. But he cannot carry a movie on his shoulders. Priyanka does well, though her part is restricted to crying.
But it is Sudhanshu Pandey who delivers the best performance.
Saurabh Shukla, who plays a detective, is a waste.
Should you go and watch Yakeen? Only if you have nothing else to while away your afternoon.