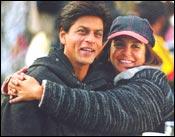 Farah Khan has a big smile on her face. And why not? Main Hoon Na is a huge hit. And in his 2004-2005 budget speech, Finance Minister P Chidambaram also has made use of the three reassuring words: Main hoon na.
This is what the Main Hoon Na director has to say:
I am making some ads for Shah Rukh [Khan] and I was on my way to some client meetings when I got SMSs that the finance minister had used Main Hoon Na in his speech. And the ad people I was meeting were all discussing it. I was quite amused when I heard it.
 
FM is damn cute: Abbas Tyrewala

I didn't see the [finance minister's] budget [speech on TV]. But I got SMSs from friends that he had used Main Hoon Na in his budget. That means it has become a cult film. It feels good. And it gives more publicity to the film. I had a big smile on my face.
I had no doubt that Main Hoon Na would be a commercial success. Right now I have an anti-climax kind of feeling. But it does feel good that the film has done well and one has produced a super hit. The distributors and producers are happy because it has earned money.
Suddenly I know about people in Nizam, Muzaffarpur, UP, Bihar...the collections have been good in all these places. It is so vindicating to know it has done well all across the country and not just in the metros and abroad. I knew it would do well in the metros. It has done well not just in Shah Rukh Khan territories. It has broken records all over. [The fact that it was an old style Hindi film] had a lot to do with it. The action in the film was also the reason. It worked for everybody. In Bihar they liked the action. Overseas, the Indo-Pak angle worked. It had huge Pakistani audiences. Pakistanis don't usually like these kinds of movies because they are always being shouted at.
I am right now writing a new subject. It is for a movie next year. I have started writing it. That is the hardest, the worst part. I get a story [idea] but then you have to write it so that it is interesting and entertaining. Yes, it will have Shah Rukh in it. I am writing it for him.

Also read:
FM is damn cute: Abbas Tyrewala