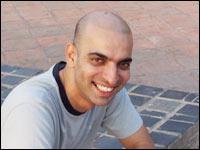 Here's a quickie: Which three words make the world go round?
I love you?
Nah, that's passé.
Main Hoon Na is the 'in' thing.
Even Finance Minister P Chidambaram couldn't resist it while announcing the 2004-2005 Budget.

FM says Main Hoon Na. Farah's amused!
And what does the creator of this immensely catchy title feel?
"What can I say except it's damn cute of the finance minister to say it," says Abbas Tyrewala who also wrote the dialogues and screenplay for Farah Khan's directorial debut.
There is no story behind how the title was born, he insists.
"It's not like Farah met me and I said Main hoon na. No nonsense like that," says the man who wrote films like Munnabhai MBBS and Maqbool.
How did the title come about?
"The character of Shah Rukh [Khan] is very solid. He is always there for everybody. Main hoon na became like his takhia kalam [oft-repeated phrase]," explains Tyrewala.
"It's wonderful that the line has caught on so well," he adds.
Tyrewala is currently working on John Matthew Mathan's (Sarfarosh) new film, tentatively titled Jeevanansh (Part of life) featuring Vivek Oberoi and Shahid Kapur.
Photograph: Jewella C Miranda
Also read:

FM says Main Hoon Na. Farah's amused!