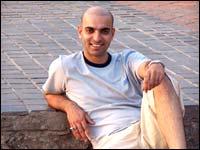 It sounds filmi but it is true. I was about five or six years old. I was standing in front of three boys who wanted to beat the hell out of me. I was frightened silly because they were bigger than me. I remember thinking that if they saw my fear, I am screwed. So I picked up a stick and somehow managed to chase them away. I don't know if I have ever felt so good about anything in life since."
That is Abbas Tyrewala's earliest memory of himself!
The writer of films like Asoka, Darna Mana Hai, Munnabhai MBBS, and Maqbool took his 'first baby step' in the field of writing by penning 'bad poetry'. Here's a teaser of what his poems in Class I were like:
Deep was the snow,
Thick was the Fog,
Lost in the darkness,
Were a cat and a dog.
"It eventually went down to them finding a house of cake with windows of marzipan," he reveals, sipping from a tall glass of chilled black coffee at Barista Café in Mumbai's suburban Versova.
Clad in a comfortable pair of khaki shorts and white T-shirt, Tyrewala has often been assumed to be a fat, old, moody nutcase. If he had a choice, he would rather someone pictured him as 'that guy from Natural Born Killers'. 'That guy' would be Woody Harrelson.
Tyrewala always had a gift for words. But things were set in motion when he went on holiday to his ancestral home in Pune.
"My elder sister frightened the pants off all the kids there with a ghost story," he recalls. "We were sitting on a terrace and there were bats flying over us. The story involved these blood-sucking vampire bats. None of us slept for a week after that!
"I got back. I remember there was a lecture in Class I, which ended early. The teacher asked whether someone would like to tell a story. I stood in front of the class and narrated the same story. I had the entire class frantic. The high of having 40 kids listening to your story and what it evoked [was something]."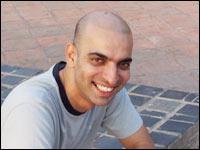 After that, every time the class had some free time, Tyrewala would step up and make up a story. "Most of them involved detectives and shootouts made up by me on the spot," he says. "It's amazing how similar they were to Rajnikant's stories. They had stuff like somebody shooting you; you've run out of bullets. You catch the bullet in the chamber and then shoot back and divert the bullet from somewhere. But the kids loved it."
By the time he reached Class VI, storytelling wasn't enough. Tyrewala wanted to create them. "If I had 15-20 minutes free, I would call a few students, come up with a story, tell them their roles, and improvise. Then we started doing plays. My reputation of doing theatre started spreading. Every time there was a function, I was asked to put up a play. I also did plays at Boy Scout camps."
Tyrewala points out that by then "a certain degree of media intrigue had set in. I enjoyed the act of holding the audience. I enjoyed telling stories. Those are probably my earliest memories that, seen in the light of scriptwriting, played a role in my subsequent profession."
Although he was fascinated by cinema, Tyrewala wasn't sure if he wanted to become a full-fledged writer — going to IIT was more like it. Then again, Tyrewala admits, "I wasn't enough of a geek [to become an engineer]."
So he did what most non-geeks do: joined Mumbai's St Xavier's College, where plays became a part of his life.
Then came the twist. "During my first year of degree college in St Xavier's," he says, "a friend of mine who was working at an advertising firm approached me because I used to write songs and plays. Their jingle writer had deserted them at the last moment. They needed a jingle in a few hours and they asked me if I would do it. I agreed. I wrote the jingle for Cema extra bright tubelight in 1993."
Next, Tyrewala was offered a chance to do 'continuity'. What might that be, you wonder? Tyrewala did too. "Every time something was offered to me, I'd take it on first and then worry whether or not I could do it." So he took on the job and wondered, "What's continuity?"
Remembering his stint as a production assistant doing 'continuity' for the Cema commercial, Tyrewala says, "I met the director Imtiaz Dharker. She asked me if I had heard my jingle. I was surprised it was recorded in a day's time. I heard it on the speaker with professional singing and music. I must have heard it six times in total disbelief. That had me hooked — the high of writing something and getting paid for it!"
According to Tyrewala, anyone who says s/he is not in this trade for the high of viewer reactions is "either lying or going to commit suicide".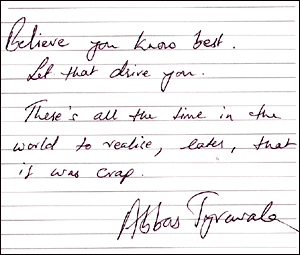 Tyrewala also translated advertisements from English to Hindi. When he was a month away from his final year examination, he was asked to choose between graduation and a job with Ogilvy & Mather PR. "By then I was sure I wanted to write," he says. "It was a fairly easy trade. My parents were uncomfortable, but I told them I knew what I was doing and this was important. They supported me."
Tyrewala worked with O&M for a year. He also wrote some scripts for television. Later, he joined the television production company Cinevista as creative consultant. In March 2000, he quit television.
He wanted to switch to films. "I knew that if, at 21, I say I am Abbas Tyrewala and I want to do movies, no one would take me seriously. Second, I knew it was an uncertain trade in terms of money. I was in a hurry to make my family secure. I did all sorts of jobs to get financial stability."
Click here for More Interviews