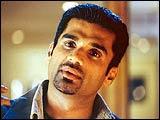 Suniel Shetty
has long shaken his muscle man image and has become a more sensitive actor. With great performances in
Hu Tu Tu
and
Border
, Suniel has given his career a twist.
His debut production Khel, co-starring Sunny Deol, Ajay Jadeja and Celina Jaitley, saw him play a man with negative shades. But unlike the surprise hit Dhadkan, which saw Suniel in a similar role, Khel did not click at the box-office.
His next production, Rakht, is racing towards completion. The actor chats with Syed Firdaus Ashraf about his films.

You must have been disappointed after Khel flopped...
Of course! I did my best for the film, yet it failed. As a product, I gave it everything but somehow it didn't click.


| | |
| --- | --- |
| | More on rediff.com! |
| | |
I think the timing of the film was wrong. We should not have released the film during the holidays. The best time to release films is from April to July.
If a film, which has such a huge star cast flops on Monday, I would have understood that it was not good. But Khel didn't click because it was October and people were in the festive mood. They just didn't come out of their homes to see the film.

What plans do you have for Rakht?
The film will be ready by December 15 but I will wait till April to release it. It is a thriller. It is about a woman [Bipasha Basu] who can see glimpses of the future. She can see spirits and reads the tarot cards. I cannot say more than this.
I learnt my lesson: films must never release during Diwali.

But in spite of spending ten years in the industry, you did not realise this?
As a producer, I thought the four-day holiday would be good for the film. The distributors felt the same. But let me tell you, everyone is happy. I am here to do business and I will not run away.
I have spent enough to publicise Khel in spite of the fact that the director was new. I played a negative role and did what my director wanted me to do.

Why do you think most actors do not make successful producers?

I think they will be successful in future. It is very important for the industry. If actors take 50 per cent of the money for a film, chances for the film failing will be rare. So I think actors turning producers is good for the industry.

Have you changed as an actor after turning producer?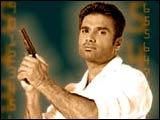 No. I have always been a producer's man. I have always been punctual. Now, after turning producer, I understand their viewpoint better.

What films are you working on now?
Farah Khan's Main Hoon Na will be done by November. Ahmed Khan's Lakeer and Mani Shankar's Rudraksh are complete. I am also doing Madhur Bhandarkar's Aan and JP Dutta's LoC. I'm going to start films with Inder Kumar, David Dhawan, Priyadarshan, Madhur Bhandarkar and Ajay Devgan's brother.

Tell us more about your films.
In Main Hoon Na, I play a fanatic who feels if someone does wrong, he must atone for it. [Co-star] Shah Rukh Khan does not approve of my belief. If you look at it from the audience's viewpoint, it is a negative role, but if you see from a patriotic person's view, it is positive. This film may bring India and Pakistan close to each other.


| | |
| --- | --- |
| | Don't miss! |
| | |
In Lakeer, I play John Abraham's emotional older brother. I play a mechanic who believes in strong family relations. We are from the lower middle-class strata whereas Sunny Deol and Sohail Khan play rich brothers. John and Sohail are in love with Nauheed Cyrusi in the film. The story is very interesting.

In Rudraksh, I play a labourer who becomes powerful because he gets a rudraksh. He gets obsessed with power. I feel that Rudraksh is Mani Shankar's answer to Steven Spielberg.
The film has 90 minutes of special effects. It travels from the Himalayas to Sri Lanka. America's Blockbuster has bought the video rights for the film. They plan to put in a lot of special effects like in Crouching Tiger, Hidden Dragon. The idea is brilliant.
I cannot talk about my role in LoC, except that my role is based on the real-life story of Param Veer Chakra awardee Sanjay Kumar, who is still alive. Shooting in Ladakh was very difficult because there was limited oxygen.
But let me tell you, JP Dutta has given all his actors a moment in the film. While shooting, I learnt that we think we are big and are doing something great. When it comes to the army, you look like an %$#%! I asked myself what have I done in my life. I saw an 18-year-old boy who wanted to fight the Pakistanis who had captured our territory. I admired his spirit and felt that I have done nothing in my life so far.

You seem to be very close to Sanjay Dutt.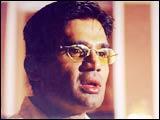 He is one of the best human beings I know. I keep telling him that when it rains, you must save something for yourself. Sanjay has donated at least Rs 10 to Rs 12 crore (Rs 100 million to Rs 120 million) to people in need and none of them have repaid him. He is a very down-to-earth person. That is why he is still a superstar despite all his problems.

Are you happy at the way your career is shaping?
Yes. Qayamat was good for me this year. Last year, it was Awara Pagal Deewana. But I wish Hindi films did well overall. The success rate is five or ten per cent. I wish it was 50 per cent!

You career has seen a lot of flops.
Failures in film do not mean much to me because at the end of the day, I am successful in my life. I have goodwill in the film industry because I have always been disciplined.
When you started your career, did you ever imagine reaching such heights?
Never. I had never seen a camera in my life. All junior artistes feel they will become like Amitabh Bachchan or Shah Rukh Khan. That is everyone's dream in the industry. We live in hope but I am happy that I have come this far in life.
Will you make more films?
Yes! I won't run from here. Look at Amitabh Bachchan. He lost Rs 90 crores (Rs 900 million) but still repaid his debt. Ajay Devgan lost Rs 22 crore (Rs 220 million) because of Raju Chacha but he repaid his dues. All the big industrialists raise their hands and say they are bankrupt. These two people are big examples for me.
I have ideas and want to do clean business. I know that I am not a Shah Rukh or Amitabh. But I am one of the ten faces in India who is saleable.
Click here for More Interviews