Continuing our reader-driven series on must-sample restaurants and eating places across the country, Chandrashekhar Bhosle talks about fresh, vegetarian pizza at throwaway prices in Mumbai. 
T
he pizza chain scene in Mumbai just got a lot more interesting with the year-old Garcia's Famous Pizza (initially only in Bandra) rapidly spreading its branches. They have a price guarantee offer that, they promise, beats any comparable deal offered by competitors. And yes, the pizza is excellent.
I decided to try GFP because they offered a coupon of Rs 100 for 2 seven-inch vegetarian pizzas in a local newspaper. I picked a Veg Delite (onion, capsicum, corn and tomato) and a Light and Crisp (chopped capsicum, onion, tomato and green chillies on a thin base).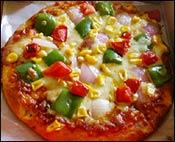 I first demolished the Veg Delite. When I opened the box, I was a bit disappointed. The pizza looked amateurish, with a bunch of large raw-looking pieces of vegetable arranged on some runny cheese and an ordinary-looking pizza base. At first bite, however, it tasted 'different'. I couldn't figure out why. By my second bite, I had begun to like it. At the end of the first slice, I realized I really liked the base. It was soft but not rubbery, and the outer shell was perfectly crisp. It melted in my mouth.
Next, the second, a thin crust pizza. This looked much more like pizzas from other chains. Crisp, well done and all ingredients nicely mixed together. Nice, but not exceptional.
Back to the first pizza. Now that I had a comparison point, I could figure out what exactly I liked about the Veg Delite. Apart from the perfect base, the vegetables felt fresh, not dried and burnt. They were cooked just right so that one could actually taste the veggies themselves, rather than just the sauce.
This is what Garcia's have to say on their Web site: 'We cut, slice and dice all our vegetable fresh everyday and never look at increasing our profits by using less quality products.'
Well, it shows. And I hope they manage to keep the quality up. Even if the prices rise later, I think there is still a niche for good quality pizza at an affordable rate.
After my first experiment, I tried them out a number of times. Having ordered both vegetarian and non-vegetarian pizzas, I'd say the vegetarian ones taste much better thanks to the fresh veggies and soft base. My favourites would be Veg Delite and Light and Crisp -- the two I started off with!
The non-veg pizzas, although good, aren't exceptional. I would recommend the Spicy Italian Lovers or the Pepperoni Pizzas. You can take a look at the complete menu online. Prices range from Rs 50 for a seven-inch plain cheese pizza, to Rs 300 for a 12-inch pepperoni. They also have side orders like garlic bread with cheese, coke, corn chilli cheese toast and desserts like Banana Bread, chocolate brownies and chocolate mousse.
The first outlet opened at Chapel Road in Bandra about a year and a half ago. There are six outlets now, with two more opening shortly at Borivali and Napean Sea Road.
They have a delivery time of about 45 minutes, which is longer than what others claim to offer, but it is worth the wait.
Phones:
Churchgate: (022) 22830538, 30960991/92
Bandra: (022) 26400787, 56052401/02
Andheri: (022) 26344574, 39407490/91
Prabhadevi: (022) 24333607, 56852829/30
Tardeo: (022) 23812509, 30968201/02
Malad: (022) 28884495, 56751101/02
They also have a (not very frequently updated) Web site.
Chandrashekhar Bhosle, 28, is a software consultant who lives in Mumbai. He is a moderator of the Sigfood - The Fine Wining and Dining Network and co-founder of www.sigfood.org, an independent restaurant reviews site.
Photograph: Chandrashekhar Bhosle
Do you have a favourite restaurant or cuisine? Or have you sampled the latest haunt on the block? Be it Manali or Kanyakumari, Kashmir or Goa, Jaipur or Nagpur -- we would love to know more about the eating out options in your village, town or city. 

Self-confessed foodies, recommend a restaurant. Rate the food (vegetarian and non-vegetarian), ambience, service, accessibility and whether you plan to head back.
Don't forget to add the restaurant's address and phone number, along with your full name, age, the name of your city, your profession and contact details.
MORE RESTAURANT REVIEWS!