Pant... pant... pant... uff! 
With expressions like these, I was wondering if my friend was talking about a sleazy movie commercial to awaken the man in me. He wasn't. He was telling me about the latest trend to have hit the fitness circuit. Is it running, it is jogging, is it pumping?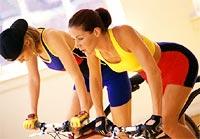 No, it's 'spinning'! 
I did a double take on the term and googled the definition. Spinning is a stationary indoor cycling workout bringing athletic training programmes to people of all fitness levels. 
Still lost?
Well, so was I till I landed up at Topspin, the spinning studio in Mumbai's super posh locality, Napean Sea Road. 
Meet the spinmaster
With Mercs and BMWs giving the portico company, I worried if the humble taxi I had travelled in would be welcomed there. As I entered the studio I wondered: was I in the right place?
Disco lights, throbbing music, attractive people and cycling machines along the wall. Wow, had I just entered a hip sports bar and disco? Would good-looking women ogle at me? My fantasy is dashed -- the likes of Suniel Shetty, Riteish Deshmukh and Sheetal Mallar adorn the cycles. 
As my gaze wandered around, the 'spinmaster' approached and directed me to a cycle. 
All of 23 years of age, All India University Cycling Champion and spinmaster Baqar Nasser ranks as the highest Spinning Instructor certified by Schwinn, the leading body of spinning around the world. 
Warming up
We start cycling at a casual speed with zero resistance -- this is the warm-up session. There is something called resistance on each cycle; resistance is manually operated and decides the pressure you need to use when you pedal. 
Each person can fix the resistance at a level that is acceptable to him or her. Hence, your body exerts at the level at which it can perform best; at the same time, you do not under-perform.
The warm-up has no resistance and you cycle at this level for about five minutes. Once the warm-up is over, you enter the main zone. 
Work those muscles
In the main zone, you are taken through various speeds and positions of cycling which ensure your back, feet and stomach get excellent exercise, keeping in mind your capacity and body type.
With names such as hill training, flat road standing, etc, there is never a dull moment. 
In this zone, the resistance is increased. As a result, your cycling speed comes down; more attention is paid to losing fat and increasing stamina. Baqar calls spinning a cardio workout for the overall conditioning of the body. 
The spinmaster keeps telling you when to stand and when to sit while cycling. The essence of the whole process is that, for the hour that you spin, your legs should keep cycling. 
Keep drinking water and let the glucose pump your body; don't let the cycling cease. The spinmaster pep-talks, and his words sure do wonders.
Let's not forget all this is happening with thumping music playing in the background; this actually pumps you to perform better. 
I, for one, felt like Abhishek Bachchan while cycling to the latest soundtrack from his movie -- those four seconds were heavenly!
Your time's up
How much ever fun it may sound, spinning is tiring and strenuous. I was praying for the clock to reach the one hour target faster than usual, yet time played games with me. 
My legs went numb and, just as I thought I could take no more, the spinmaster started to ease the pace. The resistance decreases and you gradually start on an easy, rolling phase. 
The music seems a lot mellower now and you seem to be regaining your lost energy. 
As the main zone ends, you start on the stretches. Sitting on the cycle, you stretch your leg and hand muscles to ease them of the pain and tension. By the end of the one hour spinning session, sweat had enveloped my body like water on a fish, so beware!
The benefits of spinning
Baqar, who makes spinning look like the best thing to happen to mankind, says it has many benefits. 
i. Spinning makes your heart pump at 80 percent of its capacity as opposed to 50 to 65 percent normally.
This improves all your metabolic functions like digestion, repair, etc.
ii. A one hour spinning session can burn anything between 800 to 1,200 calories per session.
This doesn't mean you gorge on food and then spin four hours a day. Remember, the body can't take more than one hour of spinning a day. 
Watch out for...
However, a book can't always be judged by its cover. 
People suffering from knee problems, osteoporosis and back problems may actually worsen their condition if they spin. 
Spinning must be undertaken under proper guidance and training because the repercussion of not spinning right could be a severe back problem. 
The damages
After a shower, I walked out fresh and upright from the studio with plans of doing it on an everyday basis. But the pamphlet with the prices made my head spin  -- Rs 11,000 a year! 
This is inclusive of taxes.
~ You get to spin five days a week, for one hour a day.
~ You will be guided by an instructor.
~ You can also get a trial class, which will give you a taste of what's on offer.
Getting back to the damages, for that kind of money I could probably make my little world spin.
Where you can spin
Topspin
Gold's Gym
Garden View
SM Marg
Napean Sea Road
Mumbai -- 400 006
Phone: 9324810988
***
Topspin
Gold's Gym
57 JL Nehru Road
Fifth floor
Kolkata -- 700 071
Phone: (033) 30580300
***
Ozone
Defence Colony
D 27
Delhi -- 110 024
Phone: (011) 51550150
***

Definition
3D Destination
Mukund Nagar
Next to Sujay Park
Pune -- 411 037
Phone: (9520) 56048304