oaxing yourself into following a regular workout routine can be a challenge.
What is more difficult is getting back to exercising after a long layoff.
Many exercise programmes seem boring or don't offer sufficient physical and mental challenge to keep people interested.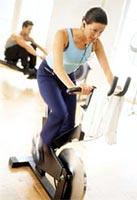 Throw in work schedules, family responsibilities, illness or injury, an ever-expanding to-do list, laziness, lack of motivation and it's not surprising that many fitness routines get derailed, making the thought of exercise just another burden on the shoulders.
Then comes the stage when we really want to lose those extra kilos and thus starts the regime of extensive promises to yourself and endless day dreaming about getting back to the gym...
So what is this 'wanna gym and lose weight but just don't seem to get around it' syndrome all about?
Lethargy or lack of energy?
"I used to work out regularly while in college and was in great shape. I managed to continue the routine till the first two years of my work life. But, as I got sucked into work, workouts became irregular. Now, I don't even remember the last time I went to the gym," moans Sumeera, a 27-year-old management executive with a multinational.
"Every time I look into the mirror and those extra layers stare at me, I promise myself I will go and register at the nearby gym and I will control my diet, but I haven't got around doing anything as yet," she adds.
Maneesh, 31, a sub-editor with a leading Mumbai daily newspaper, used to be a fitness freak three years ago; gymming was an essential part of his life. 
"Now, work has taken its toll and has eaten into all my personal time. Whatever is left goes to my wife and friends. If I try and squeeze in an exercise regime, things will go haywire. So I am learning to live with those extra kilos. Those cans of beer that are regularly poured in make things worse. I wish there were some extra hours so I could work out to shed these extra kilos," he says.
Antara, 24, a graphic designer lives in a hostel opposite a gym. When she first moved in, she was "damn kicked" about the fact. Now, she would finally be able to get back into shape!
"It's been eight months already and all I do is religiously look at the gym every morning as I pass by and promise myself that, this evening, I will get here. I don't know what to call this -- lethargy or lack of energy!" she says.
Expert speak
"There are several reasons why people stop working out and find it difficult to get back," says Amit, a fitness instructor at a high-profile gym in Mumbai.
~ Most people focus on short-term goals instead of approaching exercise as a lifelong commitment.
Once they achieve their initial goal, such as losing 15 kilos, they lose interest in workouts.
~ The second reason is physiological.
As time goes on, the degree of improvement we see becomes smaller.
Anyone can get off the couch and see tremendous gains at the outset. But, as the months pass, the gains are slower. As a result, people become demotivated and stop exercising. 
~ When they start realising the damage, they want to get back. But, once the routine stops, getting back can be difficult.
This is because other things that you might find difficult to write off your schedule take up the time you once reserved for exercising
Part II: Get that hot bod NOW
DON'T MISS!