Part I: Sex and the City
Part II: Confusion in your sex life?
Part III
:
Wanna save your marriage? Fantasise

o keep the sexual magic going...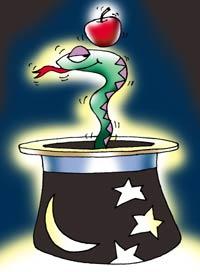 1. Good communication is the first step towards good sex. If you cannot tell your partner about your likes, dislikes, turn-ons, turn-offs, how on earth will you achieve sexual compatibility?

2. Personal hygiene is crucial when it comes to intimacy. Make sure you are showered and 'nice smelling' before getting into bed. If you can't shower, at least use a good deo. Nothing kills sex more effectively than BO. and bad breath.

3. A pleasant ambience goes a long way. Even if you don't get into creating an elaborate setting, it's worth tidying up the room, adjusting the lighting and -- most importantly --switching off the bloody TV!

4. Carve out time for physical closeness. It need not lead to sex, but it's important to maintain close body, mind and soul contact.

5. A good meal plays a role in good sex. Even the anticipation of one gets the juices going. It's difficult to enjoy sex if one or both are on a starvation diet -- all you'll be thinking of, in that case, is food, not foreplay.

6. Relax and enjoy your moments of sexual togetherness. Showering together is a lovely preclude, as is a light massage.

7. Sex should never be about scoring points and setting scores. Women tend to use sex as a weapon or a reward, withdrawing when they want to make a point. This is childish and hurtful. Domestic issues should be dealt with separately, across a table, not in bed.

8. You can't harass your partner for sex. It negates the purpose.

9. If you see yourself heading towards a sexual, physical, or emotional burnout, take some time off with your partner. Unwind, chill out, rediscover your own potential in a new, stress-free environment.

10. Couples with very young kids often find themselves too exhausted to make time for sex (daunting prospect, with bawling brats and hyper-energetic toddlers). Grab whatever time and privacy you possibly can, and laugh over your predicament -- it's not going to last forever.

11. When all else fails, turn to fantasy. An over-heated sexual imagination has saved many a dull marriage. There's nothing like vivid imagery to put the zing back into your sex life.

12. Don't take sex or your partner so much for granted that you reduce both to mechanical devices.

13. Be bold and fearless while expressing your sexual preferences. Don't blame your partner if he or she does not press the right buttons -- it won't happen if you don't talk.

14. Do something you consider 'wicked' at least once in your life. Not only will it spice up the monotony of your marital life if it has fallen into a rut, it will make you feel great!
Excerpted with the publisher's permission from Spouse: The Truth About Marriage by Shobhaa Dé, published by Penguin India, Rs 250.
Wanna check out the entire book? Click Spouse: The Truth About Marriage.
Don't miss our complete coverage.
Have you read?
Part I: Sex and the City
Part II: Confusion in your sex life?
Part III: Wanna save your marriage? Fantasise
Illustration: Uttam Ghosh