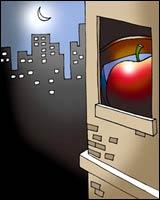 lame it on the city. Go on... you've found the perfect escape route. A hard-to-challenge alibi. The city is awful. It induces stress. There's no time. God, how tiring life has become. The pollution levels sap all energy. How can anyone think of sex with all the noise? Where's the privacy? The neighbours practically live in your pocket. After commuting forever, all you can think of is cuddling your pillow. Socialising is supposed to be fun, but hey, when was the last time you enjoyed yourself at a party? Great sex needs great commitment -- where do you find that rare and precious commodity in this ghastly urban jungle?
Weekend sex? Yes, sounds like a good idea -- but what about the kids' cricket camp, weekly grocery shopping, parties, pedicures, in-laws's visits, doctor's appointments, laundry, spring-cleaning, dog grooming, movies? Come on, with so much on the plate, who has the time for sex?
Exclusive! Check out what Shobhaa De says on Shaadi: SMS SHO to 7333
If any or all of this sounds familiar, drop whatever you are doing and give your marital sex life serious thought. Do you enjoy sex with your partner? Do you participate actively, eagerly? Do you look forward to it? Does it matter to you whether or not you have it? Do you track the frequency and worry about declining statistics? Are you comfortable enough with your partner to discuss your feelings on the subject? Has sex become just another marital duty to be performed with the sort of regularity you keep for dental check-ups? If any of this sounds a bit too close to the truth, then a review is overdue. Don't blame the city. Blame yourself. Of course urban life isn't easy. And of course you fight everyday to stay on top of things. But if sex has become a low priority area in your crowded life, it's time to take stock and reorganise a few things.
Make no mistake about it -- sexual compatibility is perhaps the strongest, most enduring bond in any marriage. Most times it gets undervalued, only because the subject of sex itself is so threatening. Couples rarely 'discuss' sex -- they just have it. I believe it's important to articulate how you feel about this very delicate, yet powerful area of your life together. If you are not in sync in this zone, chances are the incompatibility will colour several other areas without your even knowing it.
Excerpted with the publisher's permission from Spouse: The Truth About Marriage by Shobhaa Dé, published by Penguin India, Rs 250.
DON'T MISS!
Spouse: The Truth About Marriage
Exclusive excerpts:
February 17: Tips to keep the sexual magic going
Shobhaa De: Special coverage!
Illustration: Uttam Ghosh