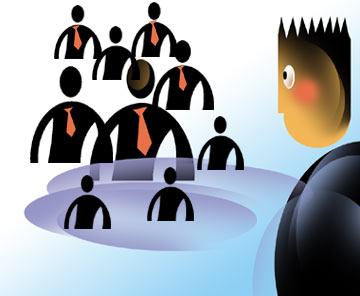 ruth: The BPO and international call centre industry in India is rapidly growing.
Truth: The industry offers great opportunities for both fresh and experienced university graduates.
Truth: All this excitement and hype around the BPO space has also attracted a lot of non-serious and short-term players.
These players set up operations with no real idea about the nature of business and how to successfully manage and grow it. 
It is easy to enter the fray, but many find it extremely difficult to acquire international clients and retain them.
Now, in this environment of many greedy businessmen and the failed projects/ companies, how does a budding professional find the right company to work for? 
This is an absolutely critical decision.
While a professionally-managed BPO unit can give a strong career boost it can be equally disastrous for building a career if the choice of employer is not right. 
Here are a few tips on the top five areas to look at while evaluating and selecting the right BPO/ call centre company to work for.
Step One: The Management Team
This is perhaps the strongest indicator about the viability and future growth of a BPO. 
Start with the web site of the prospective employer and check the following:
~Do the promoters and the founders come from professional service industry backgrounds?
~Do they have international experience, which is critical to succeed in this business? 
~Do they have a strong operations background with well-known, successful service companies? 
Step Two: Quality of Infrastructure
Determine the quality of the infrastructure that the company has developed in India and overseas. This is how: 
~From the facility tours on the web sites or, even better, by visiting the actual facilities, you can quickly evaluate the quality of the work environment, which is an excellent gauge of how well a company will look after its employees. 
~A strong international network of offices indicates that the company has a strong front-end presence, which again is vital for sustained growth and development of the organisation and of its people.
Step Three: Financial Stability
Try to find out the financial stability and the client lists of the prospective employers. True, these are often not easy to determine, but a little of research can yield vital clues: 
~A strong financial investor indicates that the company has access to funds to fuel growth and expansion. 
~By talking to current employees, you can easily find out about the size of operations.
~A strong client list is always a very positive sign -- if top global corporations are willing to place their trust in the company, that organisation must be financially and operationally strong!
 
Step Four: Work Culture
Perhaps one of the most crucial questions that you need an answer for would be about the work culture and ethics of the company. 
Globally, transparent and open work-environment companies tend to be the best employers, who care and look after their people. Use the interview process intelligently to actively find out about such practices: 
~What are the reward and recognition programmes that the company has in place? 
~How accessible is the top management? 
~What kind of attrition is the organisation facing? High attrition rates are always a very bad sign and point toward an organisation that does not take care of its employees.
Step Five: Specific Roles Available
Once you understand the organisational aspects, you must understand the specific role being offered by the company: 
~Does it match your skill sets?  
~Do the job description and function excite and interest you? 
~What is the reporting structure? 
~What sort of responsibility and accountability will be provided to you? 
~Does the role allow creativity, personal growth and development? 
~What kind of career growth prospects are being put forward? 
~Of course, is the compensation being offered commensurate with your experience and educational background?
The bottom line
1. Research the company and the role being offered extensively. 
2. Don't be afraid to ask questions and don't jump at the first available opportunity if you are not 100 percent convinced that you could fit into that job and the company. 
3. Do go in with a long-term perspective, rather than with the mindset that you can always jump jobs if you don't like the company or your role in it. Sure, that is always an option, but it is not the best strategy to experiment with jobs in the hope that it would work out.
Ideally, you should have 100 percent belief in your decision and in the company you plan to join.
4. Always remember that your job stability and commitment to your previous employer are some of the most important traits that potential employers are looking at. When you stick to the company of your choice, you will be able to achieve a far more rewarding and stable career, both monetarily and personal satisfaction.
Do your homework well, take a thoughtful decision and then believe completely in it. There is no way you can go wrong with this approach. All the best!
Zia Shiekh is the CEO of Infowavz International, a leading international BPO company with offices in Mumbai, London, Toronto and New York
Illustration: Dominic Xavier
Got a question for Zia Shiekh? Write to him!