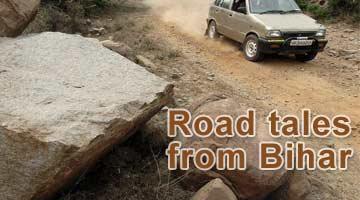 The number of accidents in Bihar must be one of the lowest in the country.
I can confidently say that because I undertook a very scientific survey during my travels there: I tried to look for dead animals on the road, and there was none.
The same cannot be said of many other states. For example, if you travel on the GT Karnal road, which connect Delhi to Chandigarh, you will see many gory sights.

Also see: Bihar: See how votes swing

But in Bihar that is not a danger at all, and the primary reason for that is that most of the times your speed will be not more than 2 km per hour, and at that speed, as all of you know, you can't even kill a fly.
Bad roads make sense in a lot of other ways as well. You can stuff yourself before heading out and the food will be digested in a jiffy. Imagine being stuck in a washing machine and you will know what it is to travel on Bihar's roads.
One RJD minister at the Centre told me that Lalu Yadav was a visionary. Now I know why he said that. Lalu Yadav wants to keep his people healthy and alive and what better way than this.
There are always exceptions to the rule. Our driver was one. He did not need good roads to drive fast. Any surface would do. And if there was a minor stretch free of potholes, he would head straight for the fifth gear. In fact, he was obsessed with fifth gear.
Also see: Welcome to Planet Bihar

Bunty told us that he had been driving a car for only ten days. Before that it was a tempo and an auto-rickshaw.
It was only towards the end of our journey that he dropped the bombshell. Asked about his age, he said, like everyone says in villages and small towns, that he did not know. "18-19", he said.
Which explains quite a few things. One being why he insisted on seeing his reflection in the eyeballs of an oncoming truck driver before cutting to the left.
Dharmendra Yadav, who represents the Masaudhi constituency in the assembly, which goes to polls in the final phase, is in Patna trying to get an RJD ticket from his boss Lalu Yadav.
If Lalu Yadav is reading this, we would like to tell him that he doesn't deserve one, because he does not carry out his orders properly.
One of the first things that Lalu Yadav did on becoming railway minister was to banish plastic cups from the railways and replace them with kulhars.
The step, he said, would not only lead to a better environment, but it would also provide employment to thousands of kumhars.
But Dharmendra Yadav does not share the sentiment. When we visited his house in Matauri village, we were served tea in plastic cups. Asked why there were no kulhars, his brother Dharamveer laughed and said, "We want to give tea in kulhars. Tea tastes much better that way. But the problem is that the kumhars in this area don't make kulhars. That is why we are forced to use plastic cups."
But the kumhars in the area had something else to say. According to them, the reason they were not making kulhars is because they did not have any orders.