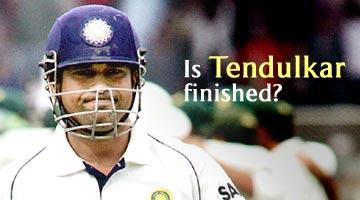 For Sachin Tendulkar, life has come full circle.
Sixteen years ago he started his international career as a teenager in Karachi and never really looked back, breaking every batting record in sight.
But now, after a dismal series in Pakistan, questions whether the champion batsman is past the use-by tag are being asked.
When he took over as coach of the Indian team, Greg Chappell had remarked that Tendulkar would never again be his devastating self .
'I don't think he is ever going to be the player he was,' Chappell declared in May last year.
Now the list of critics has started growing after the disappointing outing in Pakistan, where the master batsman struggled against the Pakistan quicks, especially Shoaib Akhtar.
His decision to walk in Faisalabad after gloving Shoaib behind the stumps also raised eye-brows. Television replays suggested that he was not out, because his hand was off the bat when the ball struck it.
Former Pakistan captain Moin Khan is convinced that the downhill journey for the little champion has started.
In his column he declared, 'I fear this may just be the beginning of the end of Sachin Tendulkar.'
Do you agree with the general assessment about Tendulkar? Or do you think Tendulkar will overcome the bad phase?