The change in the schedule for India's tour of Pakistan has upset the hosts' plans.
Pakistan's Chairman of Selectors Wasim Bari admitted that with the one-dayers being played before the Tests, his selection committee has been forced to make some adjustments.
And these alterations are not without their share of controversy.
Bazid Khan, son of Pakistan legend Majid Khan, was released from the list of probables soon after the itinerary was reversed.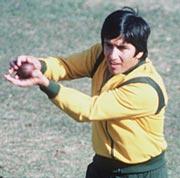 Majid Khan immediately cried foul, claiming that his son had been discriminated against.
But Bari, a former Test wicket-keeper in his second stint as chairman of the selectors after Aamir Sohail was sacked, told rediff.com that Majid Khan's allegations had no basis.
"I have repeated myself so many times over now that the squad to play India will not necessarily be picked from the probables alone. The Quaid-e-Azam [Pakistan's domestic cricket tournament] is on and anyone who gives a good performance will be included."
Bari pointed out that Bazid Khan had not been discarded, merely released so that he could play in the domestic tournament and prepare for the Tests that follow the one-day series.
Speaking from Lahore, Majid Khan told rediff.com, "Three years ago when my son was picked in the Pakistan team for a triangular tournament, General Zia (retired Lieutenant General Tauqir Zia, the former Pakistan Cricket Board chief) scratched his name off."
Khan says his son averaged 80 in limited-overs tournaments this year and 79 in four-day games.
"Haroon Rashid (the Pakistan team manager) admitted on a television channel in Pakistan that each time Bazad used to be picked, General Zia used to strike his name off. Wasim Bari is his man and he is still continuing his good work," Khan added.
"Bazid was hoping that with the general gone he might be considered again. But Bari has decided that Bazid will not play."
Majid Khan points out that he once refused the general's offer to join him on the Pakistan Cricket Board because his son was vying for a spot in the team.
"I guess the general does not take no for an answer and he took it out on my son," he alleged.   
Bazid Khan is not the only omission from the Pakistan team.
The exclusion of all-rounder Azhar Mahmood, the only Pakistani bowler who has never been hit for more than five runs an over in 32 matches against India, is baffling. One former Pakistan batsman believes Mahmood has been kept out because he is not in Bari's good books.
"Selection is a thankless job," Bari said, reacting to this allegation. "We continue to choose teams based on the conditions and after consulting the captain and the coach."
Another surprise is the omission of leg-spinner Mushtaq Ahmed, who helped Sussex win their first English county championship last season.
With seven pace bowlers in the probables camp being held at Lahore, it is evident that the Pakistani strategy will be built around pace. "Shoaib Akhtar and Mohammad Sami are good professional cricketers and we are banking on them to do well," Bari said.
But unlike other former Pakistani players who think Akhtar will make the difference, Bari believes good catching and fielding will decide the winner. "There is not much to choose from between the two sides," he said. "India has a very balanced side and their young bowlers might not be express, but are dangerous.
"The team that holds its catches will win the one-dayers, while the team that bowls well will win the Test series," he said.
A year ago, Aamir Sohail, a former Pakistani skipper, felt that Shahid Afridi should never be allowed to play for the country again. "Afridi plays like a kid, trying to hit every ball out of the park," he told this correspondent during the 2003 World Cup. "That might work once in a while, but not often enough to be worthwhile. If you really want to have a kid in your team, why not pick up any kid from the streets and play him? Afridi, for me, is a waste of time."
Soon after Sohail was appointed chairman of the selectors and Afridi lost his place in the side.
Afridi himself was disappointed with his performance and had confided in a friend that all through the World Cup and even before the tournament, no one ever told him what his role in the side was supposed to be. At times during the World Cup he was asked at the last minute to go out and bat.
The result was a string of poor scores and a ticket out of the team.
Now, after a season playing domestic cricket in South Africa and the sacking of Sohail, Afridi makes a comeback. Unlike Sohail, Bari believes Afridi is a useful one-day player. "He is a good fielder, can bowl fastish leg-spinners, and can bat as well," he said. "He is the utility player in the team who can fill any slot."
Afridi -- who scored 141 in his fourth Test in the famous Chennai game in 1998-99, which India lost despite Sachin Tendulkar's heroic 136 -- has expressed keenness to play the longer version of the game. But Bari dismissed the thought. "That (innings) was very long ago," he said. "Today he is only suited to the one-day format and that's where he will play."
India have arguably the best batting line-up in the world, but Bari seems confident of the ability of Pakistan's youngsters to take them on. "We don't have any big names," he admitted, "but our players give more than their 100 percent and that's what matters the most."
While India is still toying with the idea of a conditioning camp before the series, the Pakistani probables are already training hard at the Gaddafi Stadium in Lahore, preparing for the battles ahead under the eagle eye of coach Javed Miandad.
Inzamam-ul Haq, Pakistan's sixth skipper in as many years, has billed the India series as the 'mother of all series.' Whoever loses may have to face the wrath of a passionate nation. This fear of defeat sometimes forces teams to play too defensively.
"I tend to agree with that accusation," Bari said. "But with the introduction of match referees and the changing trend of Tests being played at a good pace, we should be in for a good series."
Pakistan probables list:
Inzamam-ul Haq (captain)
Imran Farhat
Taufeeq Umar
Yasir Hameed
Yousuf Youhana
Shahid Afridi
Imran Nazir
Naved Latif
Saleem Elahi
Misbah-ul-Haq
Younis Khan
Abdul Razzaq
Shoaib Malik
Saqlain Mushtaq
Danish Kaneria
Moin Khan (wicket-keeper)
Shoaib Akhtar
Mohammad Sami
Shabbir Ahmed
Umar Gul
Rana Naveed-ul Hasan
Rao Iftikhar