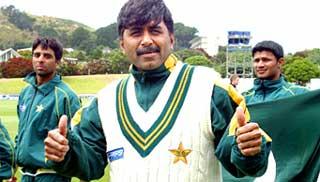 Javed Miandad just can't help being Javed Miandad.
The street fighter who once threatened to strike a fast bowler -- Australian Dennis Lillee -- with his bat is at it again. This time, however, the duels are mental.
The coach of the Pakistan cricket team has set the tone for the long-awaited home series against India with the first psychological blow weeks before the first ball is bowled.
After drawing the Test series in Australia and retaining the Border-Gavaskar Trophy, India start as favourites to win the series in Pakistan against a team that is in the rebuilding phase.
But the former Pakistan skipper does not agree. "It is all right for India to draw a series in Australia and celebrate," said Miandad. "By that standard we won the Test series in New Zealand. It is very good for the Indians that they did well in Australia, but this is Pakistan."
In a telephone interview with rediff.com's Faisal Shariff, the 46 year old said when India come to Pakistan they will be on their own without their previous successes. "I have seen teams do well in one series and then fail in Pakistan soon after," he said.
"India and Pakistan are both good teams," Miandad continued, "but since this is a home series for us the advantage is with us. If India did well in Australia, it is in the past; same for Pakistan who won in New Zealand."
Moreover, he pointed out, Pakistan is a team that is being rebuilt and yet won the Test series in New Zealand with youngsters.
Miandad was reported as saying that bowlers like Irfan Pathan were dime a dozen in Pakistan. ''Your Irfan Pathans are in every gully and mohalla of Pakistan. We don't even bother to look at them," he had reportedly said.
Refusing to give the tour its first sour taste, Miandad said, "I am not saying he [Pathan] is bad. All I am saying is that he is all right for India. But Pathan can't scare us. He simply does not have the pace. What Shoaib Akhtar and Mohammad Sami can do against Indian batsmen, Pathan cannot do against our batsmen.
"I have seen the biggest of names come to Pakistan and flop. For India he's all right, but the reality is that you should never go by name. It all boils down to who performs on the day. That is what counts.
"There is no doubt that Akhtar is our main strength and main bowler. But Sami is also an exciting bowler. We also have some dangerous bowlers in Shabbir Ahmed and Umar Gul who will worry the Indian batsmen."
Despite the brittle nature of the Pakistan batting line-up, Miandad refused to give the Indians any opening. With only Yousuf Youhana and Inzamam-ul Haq worth any mention as quality batsmen, Pakistan has huge holes in the middle order and an opening pair that is yet to be tested under pressure.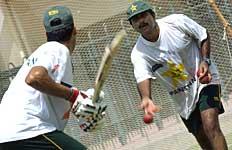 A team that once boasted of an opening pair of Saeed Anwar and Aamir Sohail and had a middle order that read Ejaz Ahmed, Inzamam-ul Haq, Salim Malik and Yousuf Youhana is today working with a bunch of keen but inexperienced youngsters.
"Our openers Imran Farhat and Yasir Hameed are playing well," Miandad said. "They have the talent, but whether they want to make a name for themselves is up to them. There are other upcoming batsmen for the middle order who are learning day by day. You cannot expect overnight success."
Miandad is probably the only coach in world cricket who isn't a fan of technology. His strategies may not be backed by statistics, but are still practical and relevant. "I don't say technology is not good," he explained. "Our problem is that we don't have it all the time. Now we have it and we will use it. I do my homework with or without a computer. But in the end you have to have skill and experience. After all, humans feed the data into computers for them to give us results."
Refusing to target any single Indian batsman, Miandad said his team would not go after any one player. "I think in India-Pakistan games anyone is dangerous," he said. "After all we have to pick 10 wickets to win. You can't go by anyone's past record.
"Let the Indians come here first, then we will plan for them."
Miandad is also very liberal about Imran Khan, Wasim Akram and Aaquib Javed working with his pace bowlers in the nets. "As a coach it is great to have them work with the young bowlers and pass on some useful tips," he said. "After all, they were amongst the best bowlers in the world. It is great that they agreed to lecture the youngsters. Even when I wasn't a coach, I used to go to help the youngsters out."

Former Pakistan captain Javed Miandad spoke to Faisal Shariff